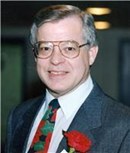 John Richard Cromie, age 84, of Bay City, passed away Thursday, November 28, 2019. He was born July 20, 1935, in Bryan, Ohio, to Irving and Mildred Cromie.
After graduating from Central High School in 1953 in Sturgis, he attended Tri-State College in Angola, to learn the drafting trade. Upon graduation, he worked as a draftsman for three companies, including Borg Warner. He then joined the U.S. Army, beginning active duty in 1956 at Fort Carson, Colorado. While there, he served in the CID 9th Division, (military police unit), as a photographer. Following his honorable discharge in 1958, John lived in Kalamazoo, working again for Borg Warner. He then moved to Fort Wayne, where he began attending the Indiana Institute of Technology, earning a Bachelor's and a Bachelor of Science degree in mechanical engineering. Upon graduation, John moved to Midland, Michigan in 1965, and began an accomplished, award-winning 36-year career at Dow Chemical as a mechanical engineer until his retirement in 2001. John was known throughout the company for his expertise in project design, equipment design, machine design, and high-pressure chemical pipes.
Known for his kindness, generosity, quick smile, and sense of humor, John always made friends wherever he went. With his woodworking skills, he enjoyed designing, making, and refinishing furniture for family and friends. He also designed and built two homes in Midland. John played violin for 18 years in the Midland Symphony. He loved sharing his passion for music with family and friends, who he often invited to concerts at the Detroit Symphony Orchestra and other venues. John was a voracious reader and enjoyed sharing his vast knowledge of history and other subjects. He loved to travel. He loved children. John knew how to be a true friend, and was a source of comfort, encouragement, and optimism to all. Most of all, he was the best father anyone could have ever asked for. He was a member of Hopevale Church in Saginaw.
Left to cherish his memories are one daughter, Jenny Cromie, of Bay City, and her fiancé, Francis St. Peter; one sister and brother-in-law, Imogene and Wayne Berger of Kalamazoo; one niece, Elizabeth Rochow of Richland; two nephews, Doug Berger of Schoolcraft, and Matt Cromie of Medford, New Jersey; several adopted grandchildren; and numerous friends. John was preceded in death by his parents, brother Wesley, and nephews Ward Berger and Spencer Cromie. John was previously married to Nilah Ellis-Cromie, Jenny's mother.
Funeral service will take place at 6:00 p.m. Monday, December 2, 2019 at The Snow Funeral Home, 3775 N. Center Rd., Saginaw. Rev. Fr. Phil Schmitter will officiate. Friends may visit at the funeral home where the family will be present on Monday from 2:00 p.m. until time of service. Burial will take place in Great Lakes National Cemetery in Holly, Michigan at a later date.
John's family would like to thank the outpouring of help and assistance from McLaren Hospice of Bay City, staff and volunteers at the Toni & Trish House (hospice care facility) in Auburn, Michigan, and so many others who helped John during his illness. Those planning an expression of sympathy in John's honor may wish to consider a tax-deductible donation to the Toni & Trish House, P.O. Box 125, Auburn, MI 48611-0125.