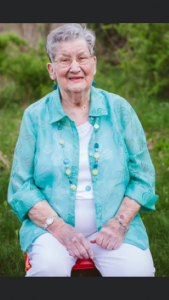 Josephine E. Hittler, age 91, of Three Rivers, passed away on Friday, December 6, 2019 at Heartland Health Care Center in Three Rivers.  She was born in Centreville on January 17, 1928, a daughter of Joseph and Marcella (Moon) Lasko.  Josephine graduated from Three Rivers High School in 1946 and then completed her 3-year Nurse's training at St. Vincent's Hospital in Toledo, OH in 1949.  On September 24, 1949, she married Joseph R. Hittler in Toledo; they were later divorced.
Josephine continued her nursing career at St. Vincent's Hospital from 1949-1960.  For the next 10 years, she worked for Dr. Ballinger and Dr. Hill in Lambertville, MI.  She also operated the Raymond Manor Apartments at Glen Oaks, the Hittler Bar (Covered Bridge Inn) from 1971-1976, and worked realty with Lammon Realty and Abacus Realty.  From 1981-1991, Josephine worked for the St. Joseph County Sheriff's Department as a dispatcher and corrections officer.
Josephine enjoyed playing bridge, crocheting, scrapbooking, embossing, and anything that involved her family.  She served on the Nottawa Township Library board and the Nottawa Township planning commission.
Surviving are her children John (Sherrie) Hittler of Ypsilanti, Jim (Kristine) Hittler of Hunnington, IN, Judy (Tim) Graber of Three Rivers, and Jeannie Flood of Sturgis; grandchildren Keith (Becky) Hittler, Tiffani Hittler, Brooke (Mike) Kauf, Tiffany (Eric) Phillips, Ashley (Brad) McCarty, Brandon (Amy) Kinsey, Jacob Hittler, Rebecca Raines, Sarah (Larry) Hu, Joshua (Emily) Hittler, Zachariah (Lindsey) Hittler, Jennifer (Brian) Burg, David (Hillary) Davis, Corey Graber, and Tim Graber; and 28 great grandchildren.
She was preceded in death by her parents, stepmother Kathryn (Williams) Lasko, brothers Donald and Edwin Lasko, and son Joe Hittler.
According to her wishes, cremation has taken place.  Relatives and friends will be received Wednesday, December 11 from 10 to 12 at Eley Funeral Home, Centreville, with a memorial service following at 12PM.  Pastor David Peterson, Centreville Baptist Church, will officiate.  A private interment of ashes will occur in Prairie River Cemetery.
In lieu of flowers, memorial contributions can be given in Josephine's honor to 'Cystic Fibrosis Foundation' or 'EB Research Partnership' for epidermolysis bullosa.  Online condolences may be left for the family at www.eleyfuneralhomes.com.