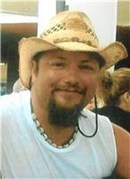 Justin Richard Wolford, age 39, of Bronson, passed away at 10:38 AM on December 28, 2019 at Parkview Regional Medical Center following an automobile accident going home to Michigan from Ohio on Christmas Eve.
He was born on January 13, 1980, in, Lima, OH, to Steven R. Wolford and Sandy (Mason) Bechtol. A 1998 graduate of Pansophia Academy in Coldwater, Justin went on to attend The Ohio State University where he majored in Biology. He was a butcher for many years before becoming an electrician with Advanced Farm Supply.
Justin was an avid outdoorsman who loved camping, hiking, hunting and fishing; passions that he was passing along to his girls. A modern Renaissance man, Justin was an accomplished home chef and winemaker. He could often be found blacksmithing and playing his guitar.
A loyal, selfless man with a big heart, Justin would do anything to help those he loved. He was a great father, son and brother whose biggest, proudest accomplishment was being daddy to his girls.
He is survived by his precious daughters: Miranda and Morgan Wolford; mother, Sandy (Tim) Bechtol of Van Wert, OH; father, Steven Wolford of Colon; sister, Ashley (Chris) Farris of Van Wert, OH; brother, Evan Wolford of Colon; step-brother, Justin Hancock of Apopka, FL; grandmothers: Elizabeth Wolford and Naomi "Jane" Mason, both of Van Wert, OH; aunt, Kim Mason of Van Wert, OH; uncles, Randy (Sharon) Mason and Harry Stephenson, both of Middle Point, OH; niece, Kaylee Hobbs; nephews, Keagan, Kasen and Kendrix Farris, all of Van Wert, OH; and best friend, Tad Yesh of Bronson.
He was preceded in death by his grandfathers: Duane Wolford and Richard Mason; as well as aunts: Deb Thatcher and Christine Stephenson.
A Celebration of Justin's life will be at 12:00 PM Saturday, January 4, 2020 at Alspach-Gearhart Funeral Home & Crematory, 722 S. Washington St. Van Wert, OH 45891 with Rev. Stuart Wyatt, officiating. The family will receive friends two hours prior to the service, from 10 am to 12 pm at the funeral home.
In lieu of flowers, the family suggests memorial contributions in Justin`s memory be made to his daughter's college funds, care of Steven Wolford.
To share in Justin's online memorial, please visit www.alspachgearhart.com.