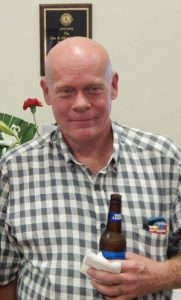 Marty Ray McWatters, age 53, of Three Rivers, passed away at his home on Saturday, Dec. 7, 2019. He was born on Nov. 22, 1966 in Three Rivers, the son of Marvin and Donna (Perry) McWatters.
Marty enjoyed people, camping, kayaking, working on engines and cars. He was an avid listener of all music. He was greatly loved and will be missed.
He worked as a heating cooling technician and installer.
Marty is preceded in his passing by his wife: Lisa D. McWatters and his father: Marvin McWatters.
Left to cherish his loving memory are his children: Lacey McWatters, Brandy Allstead, and Destiny Allstead; granddaughter: Izsabella Del'Raye Pompey; siblings: Abie (Brenda) McWatters, Patricia Glenn, Donna McWatters, and Bill (Shelley) Bernard; Many nieces and nephews; and tons of friends.
In accordance with Marty's wishes, cremation has take place and a celebration of his life will take place at Hohner Funeral Home on Thursday, Dec. 19, 2019 with visitation starting at 11 a.m. until the time of service at noon with Pastor Jerry Solis officiating.
Memorials made in Marty's memory may be directed to the family c/o Abie McWatters. Envelopes are available at Hohner Funeral Home. Online condolences may be left at www.hohnerfh.com.