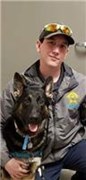 Tyler J. "Sparky" Mitschelen, age 25, of Kokomo, Indiana passed away Saturday, Nov. 30, 2019 at his home.
He was born January 30, 1994 in LaGrange, a son to James Mitschelen and Lori VanDosen-Mitschelen.
Tyler graduated from Sturgis High School with the class of 2012 and also attended Glen Oaks Community College where he studied automotive.
He was currently employed as the Animal Control Officer for the Kokomo Humane Society and he enjoyed gaming, his fur babies: Titan, which is his German Shephard service animal and "Blue" his kitten. He also enjoyed bowling, fishing, anything automotive, and spending time with his friends and family, especially his nieces and nephews.
He is survived by his mother: Lori VanDosen-Mitschelen of Portage; his father: James Mitschelen of Sturgis; 2 sisters: Andrea (Jeremy) Boyd of Bronson, and Brittney (Luke) Johansen of Sturgis; Aunt: Teresa (John) Westra of Sturgis; girlfriend: Breanna Larrick of Kokomo; and several nieces, nephews, and cousins.
He was preceded in death by his grandparents: Don & Mary VanDosen and Richard & Ruth Mitschelen; an uncle: Randy VanDosen; and nieces, nephews, & cousins.
The family will receive friends and relatives from 2:00 to 4:00 Saturday, Dec. 7, 2019 at Firm Foundation Ministries, 651 E. Main St., Centreville.
A Memorial Service celebrating the life of Tyler J. Mitschelen will be held at 4:00, immediately following visitation, at Firm Foundation Ministries.
Donations may be directed to the Kokomo Humane Society, 729 E. Hoffer St., Kokomo, IN 46902. Envelopes are available at Firm Foundation Ministries or the Hackman Family Funeral Homes who have been entrusted with the arrangements.