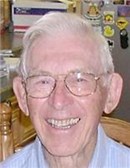 S. Bernard Brouse at the end of a faith-filled life passed to the Lord on January 3, 2020. He is survived by his wife, Ruth E. Brouse; two children, Bonnie Coxhead and David Brouse; six grandchildren, Joy Roth, Jessica Biskup, Jenny Hamilton, Amanda Lawson , Noelle Brouse, and Jonathan Brouse, nine great-grandchildren, and six step-sons and step-daughters. He was preceded in death by his parents, Shirley Frederick Brouse and Flora (Bowers) Brouse, his first wife, Georgia (Reid) Brouse; his second wife, Helena (VanZijp) Pet-Brouse; his daughter, Susan Gordon; his granddaughter, Jodi Lynn Coxhead; his brother, Leonard Brouse; and his sister, Joan (Brouse) Reeg.
Bernard, also known as Bernie or Barnie to friends, lived a life of complete "trust in the Lord." He was a member of the Flagler Beach First Baptist Church and played a major role in maintaining and decorating the church grounds for many years.
Bernard grew up in Sturgis, where his father was a factory foreman at Scovill Manufacturing by day and a farmer in the evening and weekends. Bernard grew up understanding hard work with farm chores for cattle and chickens while going to school. He had a unique gift for drafting. He was relied on by his teachers to help other students and was selected to develop the plans for the first Sturgis High School Football Stadium. His first job, while still in high school, was at Scovill Manufacturing. After completing his first year of engineering studies at Tri-State College, he decided to take his engineering insights and drafting skills to find work in Chicago.
Arriving in Chicago in 1939, Bernard was able to land a position right away as a draftsman at Peerless Tool and Manufacturing. He was involved in drafting plans for various aircraft parts that were critical to the war effort so he was deferred from the draft until the end of World War II. After the war, he entered the US Navy and received a medical discharge at the end of 1945. Seeking new challenges, he found a draftsman/engineering position at United States Steel Corporation and worked there continuously until his retirement in 1986. He continued his studies at Illinois Institute of Technology and at the Art Institute of Chicago.
At US Steel, he demonstrated that he was much more than a draftsman/engineer. He had unique engineering insights and technical skills that enabled him to synthesize complex ideas to invent new machinery and tools. He had his own set of machine tools in his garage at home that he used to build working prototypes of the machines that he designed and invented. Though not in his job title, he was really an INVENTOR. During his time at US Steel, he is credited with fourteen patents. He was most proud of an automatic wire tying and strapping machine that is used to bundle all sorts of products automatically. The design remains the basis for bundling/strapping machines that are still in use today.
While working at US Steel, he married Georgia (Reid) Brouse. They resided in Orland Park. Illinois and raised a family of three children. Bernard had an interest in new cars (for example, he owned the first 1956 Chevrolet Nomad station wagon in Chicago) and liked to travel. The Brouse family enjoyed many vacations all over the United States with Bernard at the wheel. Bernard was also a superior craftsman and built all kinds of furniture, including windows for his house and grandfather clocks. He built a family vacation house in Michigan and also built a retirement home in Flagler Beach, Florida. After Bernard retired in 1986, he and Georgia moved to their new house in Flagler Beach to enjoy the good life together. Their plan was interrupted when Georgia died unexpectedly two years later.
Bernard remained in Florida and later met a neighbor, Helena (VanZijp) Pet, who had lost her husband several years earlier. Bernard and Helena were married in 1989 and enjoyed 16 years of marriage before she passed in 2005. They enjoyed traveling the United States and Europe as well as summers in the North Carolina mountains where Bernard built still another vacation home. Flagler beach remained a perfect location for family vacations with his children and grandchildren and later his great-grandchildren. With two homes on the same street, Bernard and Helena made one of the homes (usually Bernard's) available for frequent visitors and missionaries at the First Baptist Church in Flagler Beach. His commitment to missions was evidenced by this generosity as well as his financial commitments.
Through an acquaintance at church, Bernard later met and eventually married Ruth (Wells) Lyons from Ohio who had lost her husband a few years earlier. Ruth and Bernard also enjoyed traveling in the United States, Europe and the Holy Land. Ruth has been his religious rock during these recent years and they started every day with a Bible study.
Bernard is admired, respected, and loved by his family and step-families. He served as a model for all about faith and the love of God. He often said that whenever he was in doubt or had a problem, he turned to the Lord. Those who know him have seen God's angels by his side. He frequently said that he is ready to see Jesus. We know that he is in His loving arms today.
A Memorial Celebration will be held at First Baptist Church of Flagler Beach at 11:00 AM on Tuesday, January 14. In lieu of flowers, donations may be made to AdventHealth Hospice Care, 770 West Granada Blvd., Suite 304, Ormond Beach, FL 32174 or Oak Lawn Bible Chapel, 4259 W. 107th Street, Oak Lawn, IL 60453.
Arrangements by Craig Flagler Palms Funeral Home & Flagler Memorial Gardens, 511 Old Kings Road South, Flagler Beach, FL