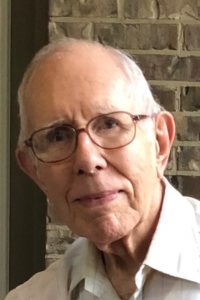 On Friday, January 3, 2020, Dale Kent Wells, loving husband and father of three children, passed away at age 89, at home in Montgomery, TX.
Dale was born on October 23, 1930 in Three Rivers, to William F. and Mable (Koenneker) Wells.
Following graduation from Three Rivers High School he served his country for four years in the U.S. Air Force. He earned his Bachelors and Masters Degrees from Michigan State University.
On February 15, 1958, he married Bonnie Lee Peterson in Kalamazoo. They raised a daughter, Jeanne and two sons, Steven and Gregory.
Dale was an accountant and practiced his profession for 30 years with the family business, W.F. Wells & Sons, Inc., a manufacturer of industrial bandsaws, owned and operated by he and his three brothers. In the evenings, he was also a professor of accountancy in the Graduate School of Business at Western Michigan University.
Dale was a passionate and talented pianist keeping the family home full of beautiful music. He played for many gatherings, and was in piano competitions winning many awards. Dale founded The Greater Kalamazoo Dixieland Jazz Band and the group performed throughout southwest Michigan. He also loved classic cars and owned several over the years, including a couple of Stutz, a Franklin, a Nash and a Jaguar. His family has wonderful memories of cross country classic car caravans in their 1934 Stutz with a rumble seat. Those Stutz adventures include family trips to all of the national parks. He was a founding member of The Stutz Car Club of America and a very active member and historian for The Classic Car Club of America Museum at The Gilmore Car Museum.
Dale was an active member of the First Baptist Church in Kalamazoo. He was also active in many community service clubs including: Downtown Kiwanis Club, S.C.O.R.E. Office at Kalamazoo Chamber of Commerce. Kalamazoo Antique Auto Restorers, American Legion, Society of Automotive Historians, Classic Car Club of America, and Gilmore Car Museum. He loved his family. He was a true gentleman, known and loved for his faith in God, loving smile, caring spirit, kindness, compassion, honesty and integrity.
Dale was preceded in death by his father William, mother Mable, wife Bonnie, sister Kathy, sister in law Ardena, and son Steven. He is survived by his brothers Dana (Dee) Wells, Lane Wells, Jan (Arlene) Wells, daughter Jeanne (Robert) Burke, son Greg Wells, granddaughter, and several nieces and nephews.
A memorial service will be held in March at First Baptist Church (date and time forthcoming) followed by internment at Ft. Custer National Cemetery.
In lieu of flowers, donations may be made to The First Baptist Church of Kalamazoo Endowment Fund or The Classic Car Club of America Museum.
Condolences and messages may be left at gracefulmemorialchapel.com.