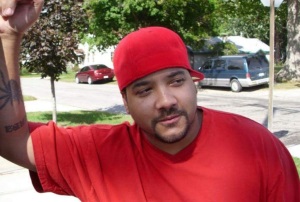 David Lee Johnson, age 43, of Three Rivers, passed away in the early morning hours of Sunday, January 19, 2020 in Kalamazoo. He was born on October 18, 1976 in Kalamazoo, the son of David Duncan and Brenda (Chambliss) Johnson.
David had a love for many things including, but not limited to, basketball, UFC, music, and guns. What David cherished more than anything was spending time with friends and family.
He is preceded in his passing by his parents.
Left to cherish David's loving memory are his wife: Rachel Johnson; children: Shaun (Kelli) and Nevaeh Johnson; siblings: Tim Johnson, Tracy (Toby) Johnson, Lisa Johnson, Tammy (Robin) Esquerra, Michelle Mcelwain Case, and Kristen (John) DeGroot; step-father: Joseph Brown.
In accordance with David's wishes a graveside service will be held at 11:00 a.m. on Friday, January 24, 2020 at the Nottawa Twp Cemetery.
Memorials made in David's memory may be directed to the American Cancer Society. Envelopes are available at Hohner Funeral Home.