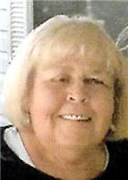 Janet Sue Brubaker, age 66, of Sturgis, passed away early Friday evening, Jan.10, 2020, at Ascension Borgess Hospital in Kalamazoo.
She was born May 21, 1953, in Sturgis, a daughter of John W. and Doris B. (Hostetler) Brubacher.
Janet was a lifelong Sturgis area resident and a graduate of Burr Oak High School with the class of 1971, and furthered her education at Davenport College.
She had been employed in the offices of Kirsch Company in Sturgis and she was a homemaker.
Janet enjoyed her plants and flowers and playing bingo and loved the monthly family card games.
She is survived by her mother, Doris Brubacher of Sturgis; four sisters,: Joyce Hensley of Curtice, Ohio, Jill (Arnim) Hescott of Three Rivers, Kristine (Robert) Conrad of Mottville and Carol (Kenneth) Baumeister of Burr Oak; and two brothers, John Brubaker and James (Diane) Brubaker, both of Sturgis.
She was preceded in death by her father; and a sister, Judy Holbrook.
In accordance with her wishes, cremation has taken place. A gathering of family and friends to share memories and honor and celebrate the life of Janet Sue Brubaker will be held from 4 to 7 p.m. Saturday at VFW Post #1355, 264 W. Fawn River Road, Sturgis. Private burial of the ashes will take place at a later date at the Burr Oak Cemetery in Burr Oak.
Hackman Family Funeral Homes of Sturgis is entrusted with the arrangements.
The family suggests those wishing to make a memorial donation in Janet's memory consider American Diabetes Association, P.O. Box 11454, Alexandria, VA 22311.
Her obituary is also at www.hackmanfamilyfuneralhomes.com, where personal messages of support may be left for the family.