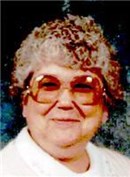 Joyce N. Broker, age 92, of Colon, passed away Saturday, Jan. 4, 2020, at Birch Meadows in Three Rivers.
Joyce was born June 22, 1927, in Colon, a daughter of the late Lewis and Mabel (Slagle) Emmel.
Joyce spent most of her life in Colon, where she attended Colon High School.
On July 17, 1946, she married Louis L. Broker in Colon. He would precede her in death Oct. 24, 1989.
Joyce worked for 49 years at Colmer Company in Colon, retiring in 2014. She also was a member of the Colon Baptist Church.
Joyce is survived by her five children, Nadine Wyant of Sherwood, Nancy Broker of Colon, Phyllis Broker of Colon, Charles Broker of Colon and Bruce Broker of Sturgis; eight grandchildren; 20 great-grandchildren; four great-great-grandchildren; a sister, Barbara Gronda of Carlton; and several nieces and nephews.
In addition to her parents and her husband, Joyce was preceded in death by a son-in-law, Donald Wyant; a son, Hershel France; and six brothers, John Emmel, George Emmel, Charles Hoyt, Tom Fredenburg, Phil Fredenburg and Robert Fredenburg.
The family will receive friends and family from 2 to 4 and 6 to 8 p.m. Thursday, Jan. 9, 2020, at Schipper Funeral Home in Colon. A funeral service will take place at 11 a.m. Friday, Jan. 10, 2020, at the funeral home, with the Rev. David J. Farrell officiating. Burial will follow at Lakeside Cemetery in Colon.
If desired, the family suggests memorials be made to Colon Fire and Rescue and Colon Food Pantry. Online condolences may be left at Schipperfuneralhome.com.