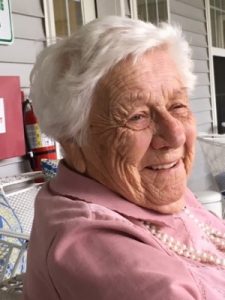 Rita Jeanne (Hierstein) Hull, age 94, formerly of Nauvoo, Illinois and Plymouth, Michigan, passed away on Sunday, January 5, 2020 in Kalamazoo, at Upjohn Care and Rehabilitation Center. She was born May 19, 1925 in Ft. Madison, Iowa, the youngest of six children born to Henry and Genevieve (Moffit) Hierstein. In 1943, Rita graduated from Catholic Central High School in Ft. Madison. She married Robert Lee Hull on December 27, 1947 at Sts. Peter and Paul Catholic Church in Nauvoo. He preceded her in death on May 22, 1980.
Rita spent her childhood and early adulthood in Iowa, where she had worked at W.A. Sheaffer Pen Company in Ft. Madison and Iowa Business Forms in Iowa City. She and Robert later moved to Madison, Wisconsin, where she worked for the Student Book Store. Rita and Robert eventually settled in Plymouth, Michigan where they lovingly raised their family of six children. While living in Plymouth, the family were members of Our Lady of Good Counsel Catholic Parish where she was the President of the Rosary Altar Society. After her husband's death, she moved to Nauvoo, Illinois and enjoyed over thirty very happy years surrounded by a multitude of extended family and lifelong friends. During that time, she worked as a library aide at the Nauvoo Public Library for 10 years. She was a member of the Sts. Peter and Paul Catholic Church, the Catholic Women's Club, Co-chairperson of the Sts. Peter and Paul funeral guild, and a member of the Hancock County Retired and Senior Volunteer Program (RSVP), and the Nauvoo Senior Singers. She moved to Michigan in 2015 to be closer to family in her final years.
Besides her husband, Rita was preceded in death by her parents, three brothers, Lawrence, Henry, and James, two sisters, Marian Hopp and Margaret Koenig, and a foster sister, Dorothy (Fernetti) Bruegger. Rita is survived by three sons, Thomas (Michaela Zuber) Hull of Eugene, Oregon, John (Dianne) Hull of Ann Arbor, Tim (Sheri) Hull of Grass Lake, Michigan and three daughters, Linda (Larry) Rybicki of Mendon,  Lois Hull of Chula Vista, California, and Mary (Tim) Lynn of Tampa, Florida, 16 grandchildren, and 12 great-grandchildren.
Rita devoted much of her life to raising her family. She enjoyed working crossword puzzles, was an avid reader and traveled the world to visit her children. Rita will be remembered for her ever-present kindness, strength, determination, and fabulous sense of humor.
A visitation will be held in Michigan on Wednesday, January 8, from 5 to 8 PM at Eickhoff Funeral Home (eickhofffuneralhome.com) in Mendon. A second visitation take place on Friday, January 10, in Nauvoo, Illinois at Schmitz, Banks, and Beals Funeral Home (sbbfuneralhome.com) from 5 to 8 PM, with a rosary at 7:30 PM. A funeral Mass will take place at Sts. Peter and Paul Catholic Church in Nauvoo at 10:00 AM Saturday, January 11, 2020, followed by interment in Sts. Peter and Paul Catholic Cemetery.
In lieu of flowers, memorials can be made to the Sts. Peter and Paul School in Nauvoo, Hospice Care of Southwest Michigan, or the Upjohn Heritage Employee Recognition Fund.
The world changes year to year, our lives from day to day, but the love and memory of you will never pass away. May you be held in the arms of God and dance with the angels.