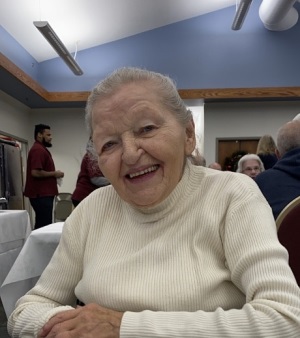 Ann Martha (Tesarik) Stutsman, age 92, of Three Rivers, passed away Tuesday, February 18, 2020.
She was born April 27, 1927 in Perrinton, MI, the daughter of Frank Tesarik and Lilli (Ondruka) Tesarik.
She worked at Kalamazoo Spring in Kalamazoo and later at Kirsch in Middlebury.
She loved being outdoors, cooking, baking, gardening, and spending time with her family.
She was preceded in death by her husband, Dale B. Stutsman, to whom she was married for more than 30 years prior to his passing in 2014; her grandson, Ryan Reist; her brother, George; and two sisters, Rose and Mary, step-daughter Rose (Jim) Maschke and step-son Mike Stutsman.
Remaining to cherish her memory are daughter, Phyllis (Mike) Salamone of Kalamazoo; grandchildren, Lisa Crummel, Stephanie (Brian) Hicks, Alexandra Salamone, son-in-law Scott Crummel and great-grandchildren, Josh, Gabriella, Ryan, Drew, Collin and Chloe; great-great-grandchildren, Sawyer, Eleanor and Lilly; step-daughters, Sherri Stutsman, Gloria (Walter) Lowe and sister-in-law, Shirley Tesarik.
The family will receive friends on Sunday, February 23, 2020 from 2:00 until 4:00 at Hohner Funeral Home. Funeral services will be held Monday, February 24, 2020 at 11:00 a.m. at the funeral home, with Pastor Bob Anderson officiating.
Interment will take place in Moorepark Cemetery.
Donations in Ann's memory may be made to the family or to Park Village Pines in Kalamazoo.