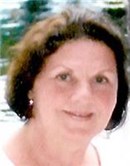 Bonnie Jean Zona, age 72, of Sturgis, passed away Tuesday afternoon, Feb. 11, 2020, at Rose Arbor Hospice Residence in Kalamazoo.
She was born June 15, 1947, in Hammond, Ind., daughter of Edward and Audrey (Royster) Amadio.
On May 1, 1968, she married Alan M. Zona in Chicago Heights, Ill.
Bonnie and Al began coming to Klinger Lake in 1980 and made the move full-time to the lake in 2010.
Bonnie retired from Homewood Public Library in Homewood, Ill., following 22 years of dedicated employment. She also most recently worked at Creative Gymnastic Center in Sturgis, a job she truly enjoyed.
She loved spending time with her grandsons Hunter and Jakob, especially the many trips they shared together. Twice a year, she and her beloved husband, Al, enjoyed their special trips to Las Vegas. Bonnie loved cooking and feeding anyone and everyone who would walk through her door.
She is survived by her loving and dedicated husband of 51 years, Alan M. Sr.; two sons, Alan M. Zona Jr. and Mark C. (Karin) Zona of Sturgis; two grandsons, Jakob A. Zona and Hunter J. Zona, both students at Michigan State University in East Lansing; her mother, Audrey Sotos of Chicago; three brothers, James G. (Katy) Sotos of Elk Grove, Ill., Peter G. (Nancy) Sotos and George G. (Tracey) Sotos, both of Chicago; many nephews and cousins; and her adoring dog, George. More love and care than anyone could expect was extended to Bonnie and the family through the years by her special cousins, Vivian Maros and George and Barbara Amadio.
She was preceded in death by her father and a brother, Edward Amadio Jr.
In accordance with Bonnie's wishes, cremation has taken place. The family will receive friends from noon to 2 p.m. Thursday, Feb. 20, at Rosenberg Chapel of Hackman Family Funeral Homes, 807 E. Chicago Road, Sturgis. A memorial service celebrating the life of Bonnie Jean Zona will begin at 2 p.m. Thursday at the funeral home. The Rev. Father Evelio Ramirez of Holy Angels Catholic Church in Sturgis will officiate.
The family suggests those wishing to make a memorial donation in Mrs. Zona's memory consider Rose Arbor Hospice, 5473 Croyden Ave., Kalamazoo, MI 49009.
Her obituary is also at www.hackmanfamilyfuneralhomes.com, where personal messages of support may be left for the family.