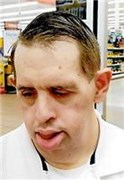 Glenn Alan Holtz, age 54, of Sturgis, passed away early Monday morning, Feb. 10, 2020, at Dee's Family Adult Foster Care Home in Sturgis.
He was born Dec. 10, 1965, in Sturgis, a son of the late Dale and Estella (Hahn) Holtz.
Glenn was a member of Trinity Lutheran Church in Sturgis.
He enjoyed going for car rides, admiring the outdoors and watching Home & Garden Television, and he loved puppies.
Glenn was a special child of God and always had a joyful happy spirit. He was loved dearly by his family and will be forever missed.
The family would like to extend very special thanks to Dorthea Meek and her family for opening their home to Glenn and the exemplary care and loved he was shown.
He is survived by two brothers, Robert (Donna) Holtz of Sturgis and Brent (Deb) Holtz of Mattawan; nieces and nephews Karrie (Bill) Brand of North Carolina, Melissa (Luis) Figueroa of Nazareth, Pa., Michael (Iris) Holtz of White Pigeon, Stacy (Keith) Cantrell of Elkhart, Ind., Katie (Andy) Broker of Centreville and Keith (Bethany) Taylor of Centreville; and several great-nieces and great-nephews.
He was preceded in death by his parents; and a sister, Nancy Holtz.
The family will receive friends from 6 to 8 p.m. Friday at Hackman Chapel of Hackman Family Funeral Homes, 114 S. Nottawa St., Sturgis. Funeral services celebrating the life of Glenn Alan Holtz will be held at 11 a.m. Saturday at Trinity Lutheran Church in Sturgis. The Rev. Calvin Kolzow will officiate. A graveside committal will follow the service at Oak Lawn Cemetery in Sturgis.
The family suggests those wishing to make a memorial donation in Glenn's memory consider Trinity Lutheran Church, 406 S. Lakeview Ave., Sturgis, MI 49091.
His obituary is also at www.hackmanfamilyfuneralhomes.com, where personal messages of support may be left for the family.