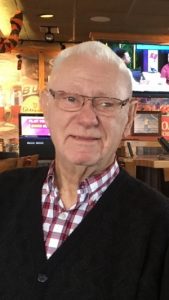 Jack Stears, age 86, of Constantine, passed away on Friday, February 28, 2020 at Bronson Methodist Hospital.  He was born in Constantine on August 20, 1933, the son of Cecil and Catherine (Bradford) Stears.  Jack graduated from Constantine High School in 1951.  On November 6, 1952, he married Marlene Elaine Berry in Angola.
Jack was a skid maker for Fibre Converters from 1954-1995.  He also worked on the farm with his father and his in-laws. Previously, he worked for Williams Manufacturing in Constantine.
Jack was a member of Messiah Lutheran Church.  He enjoyed square dancing with the River City Squares of Three Rivers, and loved to travel and go camping. Jack was a skilled woodworker, and would make barns for his grandchildren.
Surviving Jack are his wife Marlene Stears of Constantine; daughter Jody (Greg) Bowersox of Schoolcraft; sons Micheal (Diane) Stears of Paola, KS and Jerry Stears of Constantine; grandchildren Shawn Stears, Craig (Emily) Stears, Melissa Michalek, Jason (Erin) Stears, Ben (Sarah) Stears, Heather (Durris) Argaez, Greg (Nancy) Stears, Tiffany (Steve) Mozola, Miranda (Jessie) Sump, and Kyle Bowersox; 20 great grandchildren; brother Terry (Nancy) Stears of Constantine; and sister-in-laws Joyce Stears and Patricia Stears both of Constantine.
Jack was preceded in death by his parents, son, Randy Lee Stears, brothers  James and Ronald Stears, and sister Patricia(Kenneth) Middleton.
Relatives and friends will be received  Sunday from 3 to 6 PM at Eley Funeral Home, Constantine.  Religious services will be held Monday at Constantine Messiah Lutheran Church  at 11 AM.  Interment will follow at Constantine Cemetery.
Memorials can be given to the Messiah Lutheran Church.