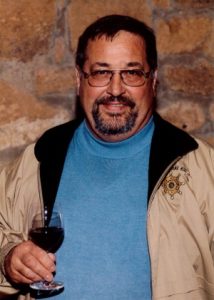 John Edward Hempel, age 73, formerly of Mendon, died Thursday, Feb. 6, 2020 at Rose Arbor Hospice in Kalamazoo. He was born in Niles on Aug. 2, 1946 the son of Robert L. and Sarah F. (Thorsdale) Hempel. John graduated from Mendon High School with the class of 1964, and joined the U.S. Navy in 1965. John served in Viet Nam and was awarded the Viet Nam service medal with one bronze star. After his military service he attended Glen Oaks Community College and was a truck driver. John established Hempel Transportation, a trucking company he operated for over 30 years. He loved to ride motorcycles and had ridden across the continental United States and Alaska. John was a member of the Detroit Traffic Club, the Southeast Michigan Bluegrass Association, and the Ford Yacht Club. He was a life member of Veterans of Foreign Wars Post #1527 in Kalamazoo.
John is survived by a son, John (Janelle) Hempel of Vicksburg; a daughter, April Hempel of Kalamazoo; two grandchildren, Michael Kessler of Vicksburg and August Jarzambek of East Lansing; five siblings, Robert (Kathy) Hempel of Three Rivers, Jim (Jacquie) Hempel of Bend, OR, Dennis (Karen) Hempel of Mendon, Kevin Hempel of Phoenix, AZ, Jeanine (Steve) Vogler of Kentwood, and Marty (Cassondra) Hempel of White Pigeon; many nieces and nephews. He was preceded in death by his parents, Bob and Sally Hempel; sister, Eileen; two brothers, Thomas and Patrick; nieces, Tamara, Brittany, and Sarah.
In keeping with his wishes, cremation has been conducted. A graveside service and military rites will take place Monday, Feb. 17, 2020 at 1:00 pm in Fort Custer National Cemetery in Augusta, Michigan. Memorials may be directed to Hospice Care of Southwest Michigan.
Assistance was provided by the Eickhoff Funeral Home of Mendon. Condolences and memories may be shared at www.eickhofffuneralhome.com