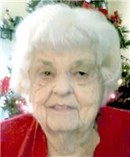 June A. Stuby, age 92 of Centreville, passed away Friday, February 7, 2020 at Birch Meadows in Three Rivers.  She was born in Sherman Township on June 17, 1927, a daughter of Albert and Nettie (Mingus) Pagels.  June graduated from Sturgis High School in 1945, and then attended Beauty Academy in Battle Creek for 2 years. On May 9, 1953, she married Carl J. Stuby in Sherman Township; he preceded her in death on November 13, 2015.
June owned her own Beauty Shop in Centreville for a few years.  After marrying Carl, she continued working out of her home.  She was a 15-year 4-H leader for the Prairie Schooners. June was a member of the Centreville Band Boosters, St. Paul's Lutheran Ladies Association, and Lockport Women's Club.  June loved to knit, crochet, sew, garden, and do lots of arts and crafts.  She adored her grandchildren, always going to their sporting events and band concerts.  She was an avid sports fan and loved going to the Centreville High School Basketball games.
June is survived by children Ron Stuby, Centreville, Christine (Brad) Hartong, Centreville, and Gary (Karen) Stuby, Ft. Wayne; grandchildren Jason (Heather) Hartong, Adam (Veronica) Hartong, Cheryl (Eric) Byler, Joy Hartong, Joel (Jessica) Hartong, Aaron (Marie) Hartong, Rebecca (Joel) Rouch, Jill (Jason) Gibson, Kim (Danny) Roller, and Ben (Elizabeth) Stuby; 32 great-grandchildren; and sister-in-law Kathleen Pagels Studeman.
She was preceded in death by her parents, husband, and siblings Harold (Lovada) Pagels, Lawrence Pagels, Leslie (Ella) Pagels, Dorothy Pagels, and Eleanor (Frederick) Marvin.
Relatives and friends will be received Monday from 4 to 8PM at Eley Funeral Home, Centreville where religious services will be held on Tuesday at 11AM with Pastor David Grimm, St. Paul's Lutheran Church, officiating. Interment will follow at Prairie River Cemetery, Centreville.
Memorial contributions can be made to the Centreville Band, St. Paul's Lutheran Church (Centreville), or Birch Meadows AFC.