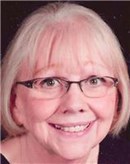 Connie Lou Carpenter, age 71, of Lansing, went to be with her Lord on Friday, March 20, 2020, after a struggle with pulmonary fibrosis.
Connie was confirmed at Trinity Lutheran Church in Sturgis and was most recently a member at Saint Stephen's Evangelical Lutheran Church in Lansing. She was a graduate of Sturgis High School. Connie held several jobs over the years and was a merchandising representative for the last 30 years.
She is survived by her loving spouse of 51 years, Dale Carpenter; and sons Quenten Carpenter of Eaton Rapids, Cory Carpenter of Lansing and Benjamin (Jennifer) Carpenter of Granger. She is a loving grandmother who enjoyed spending time with her grandchildren, Jack and Olivia Carpenter of Brighton and Meghan, Dylan Mounts and Lauren Carpenter of Granger.
Connie was preceded in death by her parents, Floyd Jack Hack and Joan Dalman of Sturgis; and a sister, Diane Gottschalk of Three Rivers.
Due to the pandemic, there will not be a service or memorial at this time, but a memorial may be scheduled in the future. Connie will be interred at Hillside Cemetery after cremation has taken place.
In lieu of flowers, memorial contributions may be made to Sparrow Hospice, in memory of Connie. Condolences may be sent to the family at www.palmerbush.com.