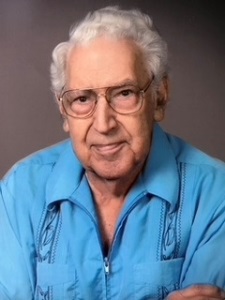 Emo Cuellar Barney was born the oldest of three children in Cali, Columbia on August 26, 1929. After completing service requirements in the Columbian Army his family sent him to the United States for high school and higher education. Emo arrived in New Jersey where he attended the Peddie School and Blair Academy. After graduation he studied Soil Sciences at the University of California-Davis, and Agronomy at Michigan State University, ultimately obtaining a Bachelor's of Science in Agronomy.
Around 1957 while interning at the International Harvester Dealership in Mendon to learn more about farm equipment, he developed a friendship with a colleague (Irenios Mattax) at the dealership who had a lovely daughter named Nancy Jayne Mattax. She was attracted to Emo's Latin charm; they dated; and were married on June 16, 1957. After settling down in Mendon, Emo quickly developed a broad range of skills, including becoming a tool and die machinist. He went on to apply his learnings to his greatest passion, farming, where he earned multiple awards and acclamations including farmer of the year and highest corn crop yield. He was recognized for achievements such as being one of the first farmers in southwestern Michigan to integrate water irrigation Lane and Center Pivot systems, and was chosen to have his farm showcased as one of Michigan's most efficient farms during the 25th annual Michigan State Farm Management tour. Beyond his farm, Emo also shared his knowledge and learnings with his community, providing his services as a machinist to his fellow farmers.
Emo was preceded in death by his father, Patrocino; his mother, Emma; brother, Arturo; and sister, Lucia. He is survived by his wife of 62 years, Nancy; three children, Alan (Jacqueline) Barney, Sonia (Tim) Heitsch, and Suzanna (Randy) Trueblood; four grandchildren, Nicholas Heisch, Nathaniel Heitsch, Meghan Wolfe, and Landen Barney.
Emo died on Monday, March 23, 2020 at his winter residence in Florida and he was cremated in keeping with his wishes. A memorial service will be held later when travel and assembly restrictions have been lifted.
Until then, memories and condolences may be expressed to the family at www.eickhofffuneralhome.com
Arrangements by Eickhoff Funeral Home in Mendon.