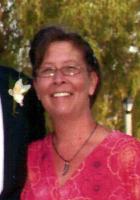 Karen Lynette Napier, age 56, of Sturgis, died Tuesday, March 10, 2020, as the result of a single car accident on US-12 west of Sturgis.
She was born March 19, 1963, in Gary, Indiana, to Eldon and Carolyn (Harbit) Ralston.
Ms. Napier worked at the Dairy Queen in Sturgis.
Karen enjoyed caring for her brother's dogs and making jewelry. She loved to bake and her brother was the frequent recipient of her baked goods. He arrived home Tuesday evening to find on his kitchen table colored pencils and a book with animal pictures that Karen had enjoyed coloring. Her mother stated that Karen's infectious, hearty laugh will be missed by all.
Surviving are her mother, Carolyn Vogel of Wolcottville; her father and stepmother, Eldon and Darlene Ralston of Fish Lake, LaGrange; two grandchildren, Lucas Barkdull and Ariya Barkdull, both of Goshen; and a brother, Michael Ralston of Middlebury.
She was preceded in death by a son, Harold R. "Red" Barkdull, III; and her stepfather, Glen E. Vogel.
The family will receive friends on Saturday, March 21, 2020, from 10 to 11 a.m. at the church.
A celebration of life service will be held Saturday, March 21, 2020, at 11 a.m. at Messiah Lutheran Church, 2955 E 700 S, Wolcottville, Indiana, with Rev. Jason Reed officiating. Burial will follow at Woodland Cemetery in Wolcottville.
Preferred memorials may be given to her mother to be placed into an education fund for Karen's two grandchildren or to Messiah Lutheran Church.
Young Family Funeral Home, Wolcottville Chapel, State Road 9 North, Wolcottville is assisting the family with arrangements.
Share memories and condolences at www.youngfamilyfuneralhome.com