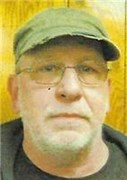 Larry Lee Shoppell, age 64, passed away at his home in rural Shipshewana, on Wednesday, March 4, 2020.  He was born in Coldwater,  on February 28, 1956 and had lived in the Michiana area most of his life except for 3 years he served in the U.S. Army in Colorado and Germany.  He was last employed by Syndicate in Middlebury.
He loved music and was an accomplished drummer.  He also loved camping, fishing, adventure and football.
He will be sorely missed by his family and was a great aid and comfort to his elderly mom.
In 2012 he married Kelly Rogers.  He is survived by his loving wife, Kelly Shoppell, mother, Jan Shoppell of Sturgis, 2 brothers, Bob (Carol) Shoppell of Pasadena, TX, Gary (Lori) Shoppell of White Pigeon, and 1 sister, Kristi (Jim) Schutter of Kalamazoo.  Also surviving are 2 nephews, Brian (Heather) Shoppell of Houston, TX, Zane Shoppell of White Pigeon, 1 step grandson, who lives with them, Jakob Seneca, 1 daughter, Valerie (Chuck) Davis and 2 grandsons, Cowen and Carter of Napa, CA.
He was preceded in death by his father, Keny Shoppell.
Per his wishes there will be no services and cremation will take place.
Elkhart Cremation Services has been entrusted with the arrangements.