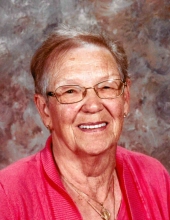 Phyllis M. Sigman, age 81, of North Adams, passed away, Sunday, March 22, 2020 at her home. She was born January 13, 1939 in Camden to Victor and Virgie (Rose) Bidlack. Phyllis married James "Jim" Sigman on August 13, 1960 and he survives.
Phyllis graduated from Pittsford High School in 1956. She was employed at Vaco, Jonesville Products, Spartan Foods in Three Rivers and she retired from Lear Corporation. Phyllis was a collector and dealer in antiques, owning several booths in Allen and Three Rivers. She also enjoyed attending auctions and growing house plants and flowers.
In addition to her husband of nearly sixty years, Jim Sigman, Phyllis is survived by three sons, Jon (Phyllis) Sigman of Fruitport, Joel (Sonja) Sigman of Kalamazoo and Jarrett "Chad" (Annette) of Three Rivers; nine grandchildren; two great-grandchildren and three siblings, Doris Bidlack of Ypsilanti, Carol (Steve) Taylor of Elkhart, Indiana and Virgil Bidlack of Milford.
Phyllis was preceded in death by her parents and two brothers, Frank and Wilson "Gene" Bidlack.
In the interest of public health and safety, a memorial visitation for Phyllis Sigman will be held at a later date, at the VanHorn-Eagle Funeral Home in Hillsdale.
Memorial contributions are suggested to Hospice of Hillsdale County, the Shriners Hospitals for Children, St. Jude Children's Research Hospital or the Hillsdale Salvation Army.