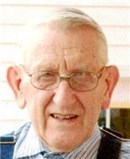 Ralph Gaylord Troyer, age 91, of Burr Oak, passed away Tuesday, March 17, 2020, at The Birches in Leonidas.
He was born June 19, 1928, in Lagrange, a son of the late Jerry and Orpha (Miller) Troyer. He grew up in Lagrange County, and attended Shipshewana School. He also attended Fairview Bible School.
On Oct. 30, 1948, Ralph married Esther Carpenter at Locust Grove Mennonite Church near Findley. He and Esther spent 13 years in the Upper Peninsula of Michigan, working in a church planting/mission program. Ralph grew up on a family farm near Emma, Ind., and spent most of his adult life farming near Engadine, then at the current family farm in Nottawa Township near Nottawa, where he developed one of the top dairy herds in St Joseph County.
He spent several years running a sawmill business near Rexton in the early 1950s and had a one-year stint working at Fan Coach (a travel trailer manufacturer located in Lagrange) in 1964-65. After his retirement in 1996, he set up a wood shop on the Nottawa Township farm, where he built and refinished furniture for many friends and family members. He and Esther continued living on the farm until moving to The Birches in 2018.
Ralph was a member of Calvary Chapel.
He is survived by three sons, Leon (Rebecca) Troyer of Three Rivers, Lennis (Nancy) Troyer of Burr Oak and Brian (Teresa) Troyer of Coldwater; a daughter, Valerie (Lavon) Yoder of Mendon; five grandchildren, Karen (Iman) Serna, Keith (Resa) Troyer, Gayle (Mark) Forrester, Nicholas (Kathryn) Troyer and Courtney Troyer; 12 great-grandchildren; a sister, Mary Louise Neff of Shipshewana, Ind.; and many nieces and nephews.
Ralph was preceded in death by his wife, Esther; his parents; two brothers, Wilbur and Clarence Troyer; and a sister, Shirley Neff.
Due to current meeting and travel concerns, a private/family visitation and committal service will take place. A memorial service will be held at Calvary Chapel in the future.
Memorial contributions may be made to Calvary Chapel Kids Club.
Online condolences maybe left for the family at schipperfuneralhome.com.
Arrangements by Schipper Funeral Home.