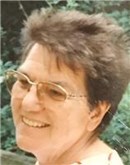 Vera Maxine Carter, age 84, of Colon, passed away Tuesday, March 24, 2020, at The Laurels of Coldwater.
Vera was born June 11, 1935, in Colon, a daughter of the late Enoch and Juanita (Danbury) Ware.
Vera lived in the Colon area most of her life, and attended Union City High School.
On May 22, 1960, Vera married Robert LeRoy Carter in Sherwood. LeRoy would precede her in death Aug. 13, 1990.
Vera worked for Berrien County Hospice and St. Joseph County Commission on Aging.
Vera is survived by three children, Shirley G. Williams of Colon, Annette L. (Mark) Olmsted of Sturgis and Rodney L. Carter of Colon; six grandchildren; eight great-grandchildren; three great-great-grandchildren; and a sister, Arlene J. Inman.
In addition to her parents and her husband, Robert, Vera was preceded in death by a son, Enoch Carter; a great-granddaughter, Mckenzie Schrock; and a sister, Lola L. Bissett.
There will be a private graveside service at South Colon Cemetery with a memorial service, to be announced at a later date. Online condolences may be left for the family at schipperfuneralhome.com.