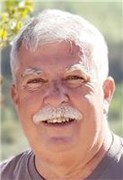 Albert Philip "Al" St. Germain, age 64, of Sturgis, passed away unexpectedly Saturday, April 18, at Ascension Borgess Hospital in Kalamazoo.
Al was born in Portsmouth, N.H., and his early life was spent in Manchester, N.H. On May 14, 1977, he married the love of his life, Karen Rider, in Virginia Beach, Va. He had been a resident of Sturgis since 1978. He worked at Midwest Tool and Cutlery and was a commercial sales representative for Terminix Pest Control. In 1993, he started working at Kool Chevrolet in Sturgis, where he discovered his passion was the automotive world. From 2004 to 2008, he owned and operated St. Germain Auto Company with his two sons. Al currently was working at the new Stykemain Chevrolet in Sturgis.
Al attended First United Methodist Church in Sturgis. Al had interests and hobbies, but what was most important to him was the time he spent with his family. Not many will ever remember seeing Al without Karen, Philip and Joshua. The addition of Jennifer and his grandchildren made his family complete.
He is survived by his loving and dedicated wife of nearly 43 years, Karen; two sons he took great pride in, Philip St. Germain and Joshua (Jennifer) St. Germain, both of Sturgis; two grandchildren he adored, Paeslii and Sutter St. Germain; sisters-in-law Shirley (Rick) Kay of Plano, Texas, and Diana (Andy) Oberdick of Florida; niece Angela (Lee) Bentley of Florida; longtime very dear friend, Gayla Perry, and her family; and several cousins.
Al was preceded in death by father-in-law Bobby F. Rider; mother-in-law Joan F. Rider; and brother-in-law Roy A. Rider.
In accordance with family wishes, cremation has taken place. Due to current conditions with the COVID-19 pandemic and the limitation of gatherings, a celebration of life will be held at a later date, to be announced.
Hackman Family Funeral Homes of Sturgis is entrusted with arrangements.?Memorial donations would be appreciated to the family, c/o Karen St. Germain, 26157 Littman Road, Sturgis, MI 49091.
His obituary is also at www.hackmanfamilyfuneralhomes.com, where we encourage family and friends to leave condolences for the family.