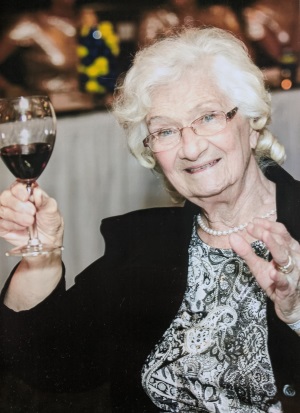 Olga Victoria Cameron was born in Elmhurst, Illinois on October 29, 1928. Her parents, Victoria Slejko (Kerkos) and Louis Slejko both immigrated from Austria through Ellis Island and were 32 and 47 at the time Olga was born. She was born leading into the great depression which, if you google the dates, began on October 29, 1929. Her father died within months of her birth. Her mom, Victoria, later married John Lestan whom Olga considered her Dad. She always remembered him with love and that he was a very giving and caring man. John Lestan had 8 children and he and Victoria had two more, Shirley Lestan (Sotir) and Bobbie Lestan who preceded Olga in death. Caring and love was instilled in Olga early on and led her into her long nursing career. She went to nursing school at age 17 and received her nursing degree. She married Wilfred D. Cameron (Bill or Bumpy to friends and family). They lived in the Boston area for many years and gave birth to Keith Francis Cameron, who proceeded Olga in death, and Reid Thomas Cameron. They moved to Michigan and gave birth to Marcia Jean Cameron (Saunders).
Olga enjoyed gardening and flowers and collected seeds wherever she went. Olga and Bill traveled the world and enjoyed skiing, making friends, and bringing medical supplies to hospitals in need. Olga was a well-respected Wound Care Nurse and also worked with breast cancer patients. She saved many lives and was an incredibly dedicated nurse. In 1997 Olga received the "Our Heroes of Breast Cancer" award for community service from the Barbara Ann Karmanos Cancer Institute. At the celebration her family met a young woman named Olga and her mother. The young Olga was named due to the profoundly meaningful care that her mother received during her breast cancer diagnosis and subsequent care. This speaks to the incredible nurse and caregiver that Olga Cameron was.
She is survived by son Reid (Mary Kay) Cameron and grand-daughter Grace Cameron and her daughter Evelyn. She was preceded in death by her grand-daughter Audra Cameron. She is also survived by her daughter Marcia (Brad) Saunders and granddaughter Ellen (Jordan) Higgins, grandson Aaron (Amanda) Saunders and their two children Atlas and Aurora, Step-grandson Richard (Tracey) Saunders and their children Nick, Mitch, Heston and Lilly. And step-granddaughter Kasi (Rob) Saunders. Also surviving Olga is her sister Shirley Sotir and her children John, Chris and Elizabeth and their respective children.
In keeping with her wishes, cremation has been conducted and services will be held later. Her cremains will be interred with her husband at Great Lakes National Cemetery in Holly, MI. Assistance was provided by the Eickhoff Funeral Home of Mendon. Memories and condolences may be shared with the family at www.eickhofffuneralhome.com
If you would like to honor Olga please make a donation to the Nursing Division at Glen Oaks Community College, 62249 Shimmel Road, Centreville, MI 49032.