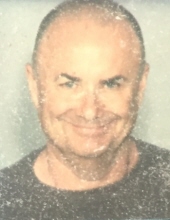 Robert J. Doe, age 67, of Sturgis,  passed away early Tuesday morning, May 19, 2020, at Bronson Methodist Hospital in Kalamazoo.
He was born Oct. 17, 1952 in Detroit, son of the late Henry and Esther (D'Haene) Doe.
In his early years, Bob was a rough and tough guy, fighting to find his place in life. In his late 20s he followed the path of his father and purchased a Beer Distributorship in Burlington, IA. It was there, that he transformed from the rough and tough, fighting guy of his youth, into a solid business man who turned to fitness, wellness and a love for dogs as his passions. While living in Iowa, Bob's transformation led him to compete in Mr. Iowa body building championships– fitness and wellness were a primary focus. He later switched his focus, from body building, to running marathons and iron man competitions. People who knew him were astounded by the transformation from his rough and tough younger years. In his early 40s he sold his beer distributorship and moved to Las Vegas. His passion for fitness, wellness, and dogs continued. In Las Vegas, he owned and operated a sports bar and named it Pug's Pub, after his pug dog. In his late 50s, he returned to Sturgis, to enjoy his semi-retirement and spend time with his family and friends in the area.
Bob was currently living in Sturgis, and employed by Black Gold Farms. His love of dogs led him to the Centreville Animal Control Department, volunteering to socialize and walk the dogs. Also, he and his dog Molly made weekly visits to many friends in the area, delivering sweet treats, fresh eggs or just to visit.
Bob is survived by his sister Joannie Doe and her friend Dan, his brother and sister-in- law, Mike and Debbie Doe, his sister-in-law Vicki Doe, and many nieces and nephews.
He was predeceased by his parents, Hap and Esther, and brother Jerry.
In accordance with his wishes cremation has taken place. Due to the current situation of the COVID-19 pandemic and the limitations of gatherings a celebration of Bob's life will be announced and held later this summer. We'll ask you to bring your favorite Bob Doe story to share.
The Hackman Family Funeral Homes of Sturgis is entrusted with the arrangements.
Those wishing to make a memorial donation, please make a donation to the Animal Control Department 652 E. Main St. Centreville, MI 49032.
The obituary is also at www.hackmanfamilyfuneralhomes.com where we encourage family and friends to leave memories and condolences for the family.