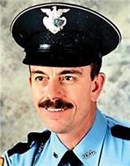 Gary C. Schneider (Guppy), age 69, of Marquette, passed away Monday afternoon, April 27, 2020, at home, surrounded by family and friends, after a courageous battle with colon cancer.
Born Oct. 11, 1950 in South Bend, to Charles and Jane Ann (Hartman) Schneider, Gary grew up on Baldwin Lake in Union, enjoying barefoot water skiing and spearing pike. He was a 1969 graduate of White Pigeon High School, where he excelled in athletics and was an inductee into the WPHS Sports Hall of Fame for both football and basketball. In 1971, he married his high school sweetheart, Jackie (Krull) Schneider, and they moved to Marquette, where Gary was attending Northern Michigan University. In 1972, Gary joined the Marquette City Police Department as a patrolman, serving in various roles as motorcycle, bicycle and meter cop; crime prevention officer; evidence technician; department SCUBA diver; Kiwanis Club Policeman of the Year, and the last six years of his career as the community police officer/ COPS program director at Lake Superior Village. He retired in 1998 after 26 years of service.
An avid outdoorsman, his greatest enjoyment was at his camp "Moosemilk Mansion."
Gary is survived by his wife, Jackie; son Jeremy and daughter-in-law Sara; his father, Charles "Corky" Schneider; brother Jack (Gail) Schneider; grandchildren Morgan Schneider (fiancé Austin Mauldin), Mira Schneider and Troy Schneider; brother-in-law Steve (Terry) Krull; nieces Lindsay Schneider and Rachel Alger; nephews Nick Schneider and Tim Krull; and many other family.
Memorial contributions may be made to the Marquette Area Public Schools (MAPS) Education Foundation, For Seniors Wishing to Pursue A Career in Law Enforcement, 1201 W. Fair Avenue, Marquette, MI 49855; or U.P. Home Health and Hospice, 1125 West Ridge Street, Marquette, MI 49855.
Private services will be held at a later date.
Fassbender Swanson Hansen Funeral and Cremation Services is serving the family. Condolences may be expressed at fassbenderswansonhansen.com.