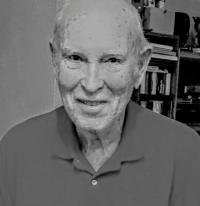 Howard Marion Curtis, age 92, of Three Rivers, died peacefully Monday, April 20, 2020. He was born December 26, 1927 in Volinia Township, Cass County, to Fred A and Leatha Mae (Hull) Curtis.
Howard served during WWII in the Navy, trained as a Marine, and served in the Army Air Corps. On January 24, 1953, he married Beverly Jean Keeler in Dowagiac. They raised five children while moving around Michigan for his 32-year engineering and construction management career with General Telephone, GTE. He retired in 1987.
Howard loved music. He joyfully added resonant bass to the family barbershop quartet, church and other choirs, on stage, and with SPEBSQSA; he played tuba in a German band. Howard was a church elder, deacon, and trustee, Kiwanis president, and lifetime member of the Elks. He and Bev traveled extensively. Howard relished playing golf and worked on Habitat for Humanity homes well into his 80s.
Six brothers and three sisters all preceded Howard in death. He is survived by his wife, Beverly; children Stephen and Emilie (Hagerman) Curtis, Michael and Denise (Brinker) Curtis, Jeffery and Jane (Parmeter) Curtis, Andrea Curtis Rothney, David and Andrea (Gerlach) Curtis; 12 grandchildren,11+ greats; in-laws Kelly Roberts Curtis, Ric Rothney, Cindy Moore Rahn; and dozens of treasured nieces and nephews.
Remembrances and condolence messages may be written and viewed at www.hohnerfh.com and memorials donated to Habitat for Humanity or the First Presbyterian Church music fund.
Celebration of Howard's life is planned for later this year.