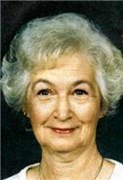 Norma J. Wenger, age 94, of Sturgis, passed away Tuesday morning, May 5, 2020, at her home.
She was born Nov. 10, 1925, in Sturgis Township, a daughter of the late Elmer and Helen (Fisher) Yunker.
Norma was a lifelong Sturgis resident and for many years she and Dick enjoyed wintering in Zephyrhills, Fla.
On Nov. 9, 1945, she married Richard D. Wenger in Sturgis. He preceded her in death Feb. 22, 2000.
Norma had been employed by Sturgis Newport Business Forms in Sturgis for 20 years and also had worked at several are plastic manufacturing companies.
She enjoyed painting, crocheting and gardening.
Norma is survived by son-in-law:, Dale Klopfenstein of Howe, Ind.; four grandchildren, Kathy Smith, Jon (Erica) Klopfenstein and James (April) Klopfenstein, all of Howe, Ind., and Khristopher Wenger of Constantine; 13 great-grandchildren; one great-great-grandchild; and several nieces and nephews.
She was preceded in death by her parents; her husband; a son, Dean Wenger; two daughters, Marcia Huber and Joan Klopfenstein; and two sisters, Elaine Noland and Marilyn Fisher.
Due to current conditions with the COVID-19 pandemic, private visitation and services will be held at Hackman Family Funeral Homes in Sturgis. Private interment will take place at Oak Lawn Cemetery in Sturgis. Norma's nephew, Pastor Keith Fisher, will officiate. A gathering of family and friends to honor and celebrate the life of Norma J. Wegner will be held at a later date, to be announced.
Memorial donations would be appreciated to the charity of one's own choice.
Her obituary is also at www.hackmanfamilyfuneralhomes.com, where we encourage family and friends to leave memories and condolences for the family.