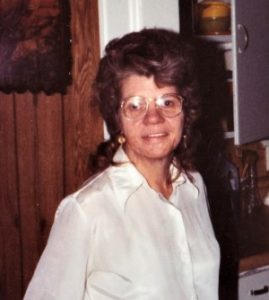 Beverly Joyce (Klingerman) Phillips, age 79, of Colon, died unexpectedly on Sunday, June 6, 2020 at her home. She was born in Prescott, MI on April 11, 1941 one of 13 children born to Charles and Mildred (Sutton) Dobler. She attended West Branch Schools and spent most of her adult life in St. Joseph County. Beverly was married to James W. Klingerman on April 24, 1978 in Niles. He died in 1990. She was later married to Carlos Phillips on Sep. 30, 1991 and he died in 2001. Beverly has worked as a server at several area restaurants. She was a former member of the Portage Eagles, and enjoyed gardening, Bingo, and trips to the casino.
Bev is survived by two daughters, Carol Crabtree of Three Rivers and Cheryl (Gary) Britton of Leavenworth, KS; step-children, Patrick Klingerman of Mendon, Curtis Klingerman of Portage, Sandy Campbell of Arizona, Sue Turnpaugh of Ft. Wayne, IN, and Patty Walters of Three Rivers; five grandchildren; one great-grandchild; two brothers, Donald (Darlene) Dobler, Robert Dobler; and a sister, Gladys Webster all of West Branch.
She was preceded in death by her parents; two husbands; sisters, Dorothy Shelton and Pat Smittle; brothers, Art, Chester, Dennis, Charles, Leo, Johnny, and Billy Dobler.
There will be a viewing from 9 to 11 am Saturday, June 13, 2020 at the Eickhoff Funeral Home in Mendon. Interment will take place at noon Saturday in Mendon Cemetery. A memorial service will be held later in West Branch after COVID-19 restrictions have been lifted. Memorials contributions may be directed to a charity of one's choice. Memories and condolences may be shared with the family at www.eickhofffuneralhome.com