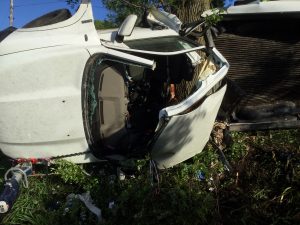 A 21-year-old Dowagiac man died in a single-vehicle accident last weekend in Cass County's Volinia Township.
Sheriff Richard Behnke said deputies were called at 6:18 a.m. Saturday to Church Street, east of Lawrence Road.
Authorities said Michael Mortimore was a passenger in a pickup driven by Austin Price, 21, also of Dowagiac. The vehicle was heading east on Church Street when Price apparently lost control and the vehicle flipped into a tree.
Mortimore died at the scene, deputies said.
Price was airlifted to Bronson Hospital. Another passenger, 22-year-old Nicholas Carey of Dowagiac, was transported by ambulance to Bronson Hospital.
All three occupants were trapped in the vehicle after the crash and had to be extricated from the vehicle.