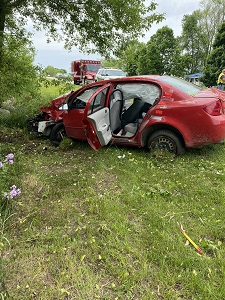 A teen from the community of Jones was injured last week in a single-vehicle accident in Cass County's Porter Township.
Sheriff Richard Behnke said deputies were dispatched shortly before 2:30 p.m. Wednesday to a location on U.S. 12, just east of South River Road.
Emergency personnel found that a vehicle driven by Justin Rose, 17, had left the roadway and struck a tree.
Rose told authorities he had lost control while trying to avoid a bee inside his vehicle. He was transported to Elkhart General Hospital.
Alcohol and drugs were not factors in the crash, and a seat belt was used, investigators said.