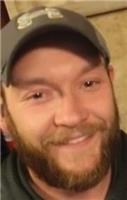 Allen L. Hook, age 35, of Sturgis, passed away unexpectedly Monday, July 20, 2020, at the Sturgis Hospital emergency room.
He was born Oct. 11, 1984, in Kalamazoo, a son of Harry Hook and Cheryl Chapman.
Allen has resided in Constantine, Mendon and Sturgis all his life and had been employed by Markline Industries, Forest River, Clayton Homes and currently at Summit Polymers in Sturgis.
He enjoyed hunting, fishing, kayaking and especially spending time with his family and friends.
Surviving are his significant other of 13 years, Jocelyn Hunt; their children: Devon Beller and Kaitlyn Hook; his parents: Harry Hook and Cheryl Chapman; a brother, Joshua Hook; two sisters, Melissa Moses and Kaylee Hook; two nieces and nephews, Christian and Madilyn Moses, Wyatt and Sadi Hambright and his extended family on Jocelyn' side: Christina Baldwin, Michael Bender, Cassie and Sam Hambright, Mary Bender, Debra Bender, Jessica Bender, Connie and Chris Kegerreis, and Cara Kegerreis, Ann Ray, David Baldwin.
He was preceded in death by Willard Bender and Mike Ray.
According to his wishes, cremation has taken place. There will be a celebration of his life service to be held at 4 p.m. Aug. 1, 2020, at their grandparents' property, please contact Jocelyn for directions at 269-221-8212.
Memorial donations may be directed to his family to help with his children's future education expenses. Envelopes are available at Hackman Family Funeral Homes of Sturgis, which has been entrusted with the arrangements.
His obituary is also at www.hackmanfamilyfuneralhomes.com.