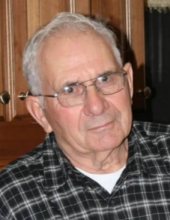 Gerald B. Lown, age 90, of Sturgis, passed away Monday, August 3, 2020 at home. He was born on September 25, 1929 in Hillsdale to Paul and Margret (Moorehead) Lown. He married Leah C. (Heydon) on September 29, 1950 and she survives.
Gerald enjoyed woodworking, photography and loved to go fishing and camping. Gerald was known to be a jack of all trades and it didn't matter who it was, if someone needed help with a project, he was there to help and figure it out.
In addition to his wife, Leah, Gerald is survived by three daughters, Marsha (Don) Thrasher of Coldwater, Brenda (Todd) McDougle of Noblesville, IN., Julie (John) Hart of Kalamazoo; one son, Keith Lown of Lagrange.; two sisters, Patricia Britton of Hillsdale, Peggy Monroe of Pittsford; one brother, Jim Monroe of Ft. Wayne; eight grandchildren and nine great-grandchildren.
He was preceded in death by his parents, one sister and one brother.
A graveside service for Gerald B. Lown will be held Saturday, August 8, 2020 at 11:00 AM at Fisher Hill Cemetery with Father Rick Schark officiating.
Memorial contributions are suggested to Alzheimer's Association.
Arrangements are entrusted to Eagle Funeral Home-George White Chapel in Quincy.