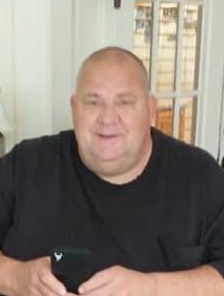 James "Dan" Clark, age 58, of Fish Lake, Sturgis, passed away on Friday, September 18, 2020 at his home.  Dan was born in Three Rivers on February 18, 1962, a son of James and Willa Mae "Toots" (Parker) Clark.  He attended Centreville Schools, graduating in 1981.
On September 18, 1982, he married Sherrie Pokorny in Three Rivers.  Dan worked for Kline's Construction as an operator foreman for over 20 years.  He also previously worked at the Constantine Creamery.  He loved attending the St. Joseph County Grange Fair, going mushroom hunting up north, and spending time with his grandchildren.
Surviving are his wife Sherrie Clark of Fish Lake, Sturgis, son Michael (Meranda) Clark of Centreville, daughter Bridgette (John) Alley of Burr Oak, grandchildren Braxton Alley, Cole Alley, Collyn Alley, Aubrey Clark, Paitynn Clark, and Kade Clark, mother-in-law Janice Hubbard of Constantine, sister Julie Clark of Centreville, brother-in-law Dennis Whitley of Niles, sister-in-law Michelle (John) Harrold of Three Rivers, and several nieces and nephews.
He was preceded in death by his parents, father-in-law, sister Penny Brown, and brother-in-laws David Pokorny and John Pokorny.
Relatives and friends will be received on Tuesday from 4 to 8PM, and religious services will be held on Wednesday at 11AM, all at New Beginnings Community Church (63022 M-66, Sturgis, MI 49091), with Pastor Randy Evans officiating.  Social distancing guidelines will be enforced and masks are required.  Interment will follow in Prairie River Cemetery.
Memorial contributions can be given to the family.  Arrangements were entrusted to Eley Funeral Home, Centreville.  Online messages can be left for the family at www.eleyfuneralhomes.com.