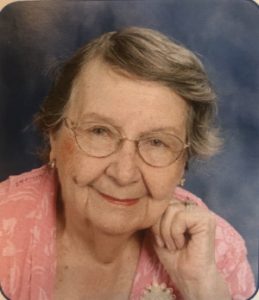 Eunice R. Rockwell Outman, age 91, Constantine, passed away on Wednesday, September 2, 2020 at Heartland Health Care Center in Three Rivers. Eunice was born in Union on November 18, 1928, a daughter of Joseph and Ida (Yoder) Bucher. She attended Bristol and Constantine Schools, graduating in 1950. After, she received her associates degree in accounting from Glen Oaks.
Eunice married Harry C. Rockwell on September 30, 1950; he preceded her in death in 1986. On June 25, 1988, she married Harold K. Outman; he preceded her in death on May 10, 1991.
Eunice was an accountant for NIBCO in Elkhart, retiring in the 1990's. She also worked for the Constantine Creamery and the Constantine Village Office. She was a member of the Constantine Messiah Lutheran Church, and enjoyed singing in the choir. Eunice loved flowers, gardening, sewing, and helping with school reading programs.
She is survived by her sons Harry (Lori) Rockwell of Syracuse and Michael Rockwell of Augusta, GA; grandchildren Bryce Rockwell, Lucas (Mariah) Rockwell, Drew and Kiersten Rockwell; a great granddaughter Lillian; sister Miriam Garver of Palatine, IL; and stepchildren Cheryl Hart and Ed (Theo) Outman.
She was preceded in death by her parents, husbands, 5 sisters, and stepsons Malcolm, Marlin, Richard, and David Outman.
A graveside service will be held Tuesday, September 8 at 11:00 at the Constantine Cemetery. Memorial contributions can be given to Constantine Messiah Lutheran Church. Arrangements were entrusted to Eley Funeral Home, Constantine. Online messages can be left for the family at www.eleyfuneralhomes.com.