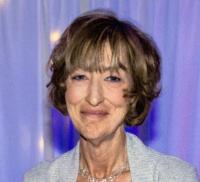 Mary Lou Ware, age 58, of Wolbach, Neb., died Thursday, Aug. 27, 2020, at Bryan Medical Center West Campus in Lincoln, Neb.
Memorial services will be at 2 p.m. Tuesday, Sept. 8, 2020, at Peters Funeral Home in St. Paul, Neb. Rev. Glenda Pearson will officiate. Inurnment will be at a later date in the Rose Hill Cemetery in Palmer, Neb.
Memorials are suggested to the family.
Mary Lou was born on Sept. 18. 1961, at St. Paul, the daughter of Larry J. and Gloria J. (Hobbs) Prowett. As a young girl she lived with her family in various states and cities, as her father served in the United States Navy. She attended school in Three Rivers, Michigan.
She was united in marriage to Thomas R. Ware on June 9, 1979, at Three Rivers. She then worked at Lasco Bathware for 17 years. In 2004, the couple moved to Cushing, Neb.
Tom passed away on May 2, 2007. She later worked part-time for her daughter, Amy, at the Branding Iron Café in Palmer. In 2014, she moved to Wolbach, where she lived the rest of her life.
Mary Lou enjoyed crafting, camping, cooking, baking, reading and going to the St. Paul Library. She loved spending time with her children and watching her grandchildren.
She is survived by her daughter and son-in-law, Amy and Jay Hendrickson of Lincoln; son and daughter-in-law, Tommy Jr. and Shawna Ware of Wolbach; four grandchildren, Carter Dunlap, Raelynn Ware, Charli Hendrickson and Brody Hendrickson; parents, Larry and Gloria Prowett of Cushing; sisters and brother-in-law, Dawn and Keith Kreider of St. Paul and Cindy Flores of Grand Island, Neb.; brothers and sister-in-law, Larry "Tiger" and Janet Prowett of Cushing and A.J. Prowett of St. Paul; sister-in-law, Peggy Ware of Constantine; and brother-in-law and sister-in-law, Steve and Deb Ware of Constantine; and numerous nieces and nephews.
In addition to her husband, Tom, she was preceded in death by her grandparents, Wyland Prowett and Viola Shinn and Everett and Dorothy Hobbs; in-laws, Harry and Freda Ware; brother-in-law, Terry Ware; and best friend, Sandy Combs.
Condolences and memories may be shared with Mary Lou's family by visiting www.petersfuneralhome.net.