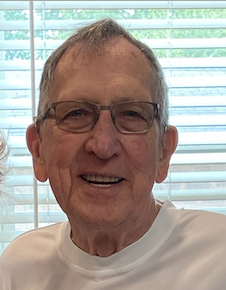 Samuel Burton Carper, age 84, of Three Rivers, and formerly Centreville and Constantine, passed away on Wednesday, September 2, 2020 at his home. He was born in White Pigeon on August 15, 1936, a son of Payson and Bessie (Bowman) Carper. He attended White Pigeon schools and went on to serve in the U.S. Army for 8 years.
On March 25, 1958, he married Patricia Hartzell in Centreville; she preceded him in death on May 22, 2009. On December 27, 2012, he married Joanna (Gross) Buscher Scott Drew.
Sam was a purchasing agent for Burr Oak Tool for many years, retiring in 2007. He also owned and managed Meek's Mill in Constantine from 1980-1990, ran the kitchen and bar at Sauganash Country Club in the 1970s, cooked at the Harvey House, and worked as a contractor for Hartzell Builders in his early years. Sam was a member of the Centreville Lion's Club, Constantine American Legion, Centreville Village Council, St. Joseph County FOP, and VIP member of the Cass County Conservation Club.
Surviving are his wife Joanna Carper of Three Rivers; son Thomas (Debbie) Carper of Florida; daughter Gloria Stears (David Widmar) of Granger; stepchildren Brenda (Edward) Iannarelli of Florida, Patricia (Jack) Romine of Schoolcraft, and Steven (Anita) Buscher of Centreville; grandchildren Selina (Joey) Flahive, Mallory (James) Walker, Trevor (Michelle) Arnold, Patrick (Rae Meyer) Arnold, Katie Stears, Freddie (Madison Axe) Stears, Christopher Arnold, and Melissa Arnold; step-grandchildren Jeremy (Heather) Iannarelli, Jason (Jen) Iannarelli, Warren "Corky" Buscher, Lea (Matt) Lackey, Norman (Michelle) Romine, Chelsea (Matt) Musselman, Brittney Buscher, and Sydney Herman; 27 great grandchildren; and sisters Phyllis Bell and Carol (Robert) Bell.
He was preceded in death by his parents, wife Patricia, daughter Christine Arnold, stepson Randy Buscher, and siblings Audrey Whisler, Marjorie Carper, Wuanita Brogie, Janet Mercer, George Carper, Dick Carper, and Mildred Hosestead.
Relatives and friends will be received Wednesday, September 9 from 5 to 8PM at Eley Funeral Home, Constantine. Masks are required and social distancing guidelines will be enforced. Religious services will be held Thursday, September 10 at 11AM at Moorepark Community Church in Three Rivers with Pastor Bud Granger officiating. Interment will follow in Peek Cemetery.
Memorial contributions can be given to Three Rivers Hospice or Moorepark Community Church. Online messages can be left for the family at www.eleyfuneralhomes.com.