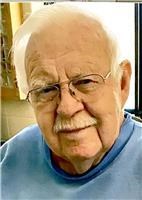 Our family mourns the death of Bryan Junior Van Skike, who died on September 24, 2020, in Sturgis. He was 92 years old. Bryan was born at home in Holliday, Missouri on October 25, 1927, delivered by the doctor who arrived in a horse and buggy. His parents were Reva Smith Van Skike and Harry Bryan Van Skike. Bryan's childhood and youth were spent in Missouri, during the depression, where he worked hard at various jobs, and was surrounded by the love of a caring grandmother, Nellie Smith.
Bryan was a graduate of Paris, Missouri High School, and later of the Iowa Institute of Telegraphy. In 1948, he married Nehemiah Allie Holst (known as Nickie) and they moved to Michigan for work. Bryan and Nickie were married for 26 years. His working career was filled with a variety of jobs, but in all of them he was a diligent, faithful employee. In Charlotte, he was best known for his service at the Post Office as the friendly clerk at the window for 24 years. He also worked as a telegrapher and station agent for the Grand Trunk Railroad, a city policeman, a school bus driver and the owner of Van's Window Washing service. He loved American history and world geography. He was an avid reader.
Bryan was a past Vice-President of and volunteered with Helping Hands Food Pantry here in Charlotte. He organized the Holiday Food Basket for many years. Additionally, he cared about and served Native Americans at Pine Ridge Reservation in South Dakota. Bryan facilitated groups of grieving children at Ele's Place in Lansing. For many years, he was the leader of the men's prayer breakfast at Big Boy restaurant. He was a faithful member of the Eaton Rapids Wesleyan Church, The Charlotte Free Methodist Church, and First Baptist Church of Charlotte. He raised his children in faith, discipline, and love.
After the death of his wife, Nickie, in 1974, he married Patricia J. Clemens, the widowed wife of his friend, Richard. They have been married for 46 years, and Pat survives. Even though his last years were marked by the slow decline of dementia, he still recognized and loved his wife and children. Besides his wife, Pat, he is servived by Nickie's children: Brynda (David) Filkins, Penny (Garth, deceased) Pickett, Nathan (Kathy) Van Skike, all of Charlotte; and Pat's children, whom he considered his own: Linda (Larry) Hahn, Mary (Don) Houser, Katie Clemens, all of Sturgis, Michigan. His only brother, Jackie B. (Peg) Van Skike, of Iowa, also survives. Bryan was pre-deceased by his first wife, Nickie, and by sons, Monte Bryan Van Skike, and Brian Kills Crow Van Skike, daughter, Gretchen Nickie Van Skike-Campbell, and granddaughter, Vanessa Filkins. He has 13 grandchildren and numerous great-grandchildren and many nieces and nephews. He was known as Grandpa to many others under his and Pat's care.
A memorial service for Bryan will be held on Saturday, October 10, 2020 at 2:00 pm, at the First Baptist Church, 1110 S. Cochran Ave., Charlotte. Visitation with the family will be one hour before the service. For those who cannot attend in person, the memorial service will be livestreamed on Facebook on the First Baptist Church, Charlotte, MI Facebook page. The family is being served by Burkhead-Green-Kilgo Funeral Home. Bryan will be interred at Maple Hill Cemetery in Charlotte.
Bryan would be happy if you would do a kind deed in his name or contribute to Helping Hands Food Pantry, 621 Jefferson St., Charlotte, MI 48813 in his memory. Bryan's room was ready, prepared by God. We all rejoice because he is home in Heaven!