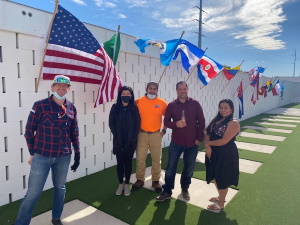 Clark Logic celebrated "Hispanic Heritage Month" on October 13 by  gathering at one of its sites to recognize employees and their families – along with key  customers from all around southwest Michigan. The three-hour early afternoon event  included a variety of Hispanic food, refreshments and entertainment. The venue took  place at the unique 'Wind and James' site in Schoolcraft – one of over 40 locations  comprising the Clark Logic business footprint.
Michigan Governor Gretchen Whitmer recently signed an official proclamation  recognizing September 15 – October 15 as the timeframe to honor the many Hispanic  families that comprise the state of Michigan. Michigan is home to a large concentration  of residents comprising the Spanish and Latin American heritage.
"It's important for us as a company to recognize our diversity," cited Jamie Clark,  President of Clark Logic. "We are very proud of the fact we are so diverse at Clark Logic  – we have a great team comprising many outstanding people. Bringing everyone  together for a fun afternoon of fellowship is a true reflection of what we stand for as a  company."
Over 100 people attended the three-hour event – from Clark Logic employees and their  family members to customers from throughout southwest Michigan.
"We are a visionary company driven by our many outstanding people," cited David  Casterline, Chief Executive Officer at Clark Logic. "We embrace all the good they do for  us and appreciate their efforts. Having our employees mixing with our customers made  it an extra-special day."
Clark Logic includes local business sites in Three Rivers, Sturgis, Schoolcraft,  Constantine and Portage.
Central Manufacturing Services was founded in 1969 by James "Big Jim" Clark. His  vision was … "We are a company looking into the future." That vision carries on today.
Through the years, the journey has evolved into several notable companies including:  I-Trailer; J&L Express; and Team Manufacturing Services with a fleet of over 50 trucks  and 3,000 trailers. Today, under the umbrella of Clark Logic, the organization has also  transformed into a real estate development business with a footprint of over 3 million square feet throughout Southwest Michigan and northern Indiana – inclusive of  warehousing and work space utilized by several nationally known companies. Our  winning team culture combined with an exceptional workforce are proud to be serving  this area for over 50 years. To learn more about pursuing a career at Clark Logic,  please visit our website at: ClarkLogic.com. Clark Logic, a visionary company — driven  by its people.