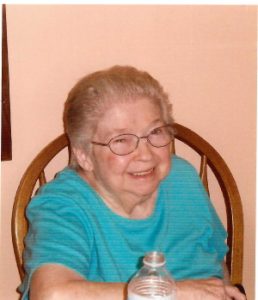 Gloria June Bickle, age 85, of Constantine, died peacefully at home on Monday, October 26, 2020 after a brief illness surrounded by loved ones.
Gloria was born in Three Rivers on June 9, 1935, a daughter of Ernest and Edith (Studebaker) Blade. She attended Three Rivers Schools. On March 25, 1951, she married Richard Bickle in Three Rivers; he preceded her in death September 29, 2002. Gloria was a cook for the Riverview Tavern where she made "Ma's Famous Chicken" for many years. She also was a lunch lady at Eastside School for over 14 years, retiring in 2001. Her most favorite job, however, was being a wife, mother, and homemaker for her family. She loved cats, puzzles, spending time in her garden, and most of all, being with her family.
She is survived by her children Diana Kay Bradford of Constantine, Linda Sue Byers of Fountain, and Mary (Jesse) Goheen of White Pigeon; 3 grandchildren; 5 great grandchildren; 2 great-great grandchildren; and several very special nieces and nephews. She was preceded in death by her parents, husband, 2 sisters, and 1 brother.
Relatives and friends will be received Thursday, October 29 from 3 to 6 PM at Eley Funeral Home in Constantine. Graveside services will be held Friday, October 30 at 11 AM at Constantine Township Cemetery with Pastor Dave Peterson, Centreville Baptist Church, officiating.
Memorial contributions can be given to Hospice Care of Southwest Michigan or St. Joseph County Animal Control c/o United Way. Online messages can be left for the family at www.eleyfuneralhomes.com.