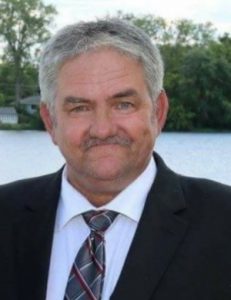 Jacob "Jake" Hershberger, age 59, of Constantine, passed away on Sunday, October 25, 2020 at Borgess Hospital in Kalamazoo. He was born November 30, 1960 in Three Rivers, a son of Carlton and Kayola (Platz) Hershberger. Jake attended Northridge High School in Middlebury.
On July 17, 1982 he married Sabrina Mabry in Middlebury. Jake was employed as a forklift operator at CMI/Hayes Lammerz in Bristol and Lippert Components in Middlebury. Later he provided transportation to the Amish community.
He was a member of Marked Men for Christ and enjoyed pitching horse shoes in Middlebury and cutting wood.
Surviving are his mother Kayola Hershberger, Middlebury, wife Sabrina Hershberger, Constantine, daughters Katrina Kuhn, Krista (Nathan) Weltz, Kasandra (Danial) Shuman, grandchildren Sabrina (Sam Roberts) Kuhn, Eddie Kuhn Jr., Harlie Weltz, Kinsley Weltz, Alyvia Shuman and Aiden Shuman, brothers Jeff, Jamie, Jerry and John, and several nieces and nephews.
He was preceded in death by his father, grandchildren Grace and Alex and son in law Eddie Kuhn Sr.
Relatives and friends will be received Wednesday from 2 to 4 and 6 to 8 pm at Eley Funeral Home in Constantine. Religious services will be held at 11 am Thursday at New Song Community Church, 16050 Wayne St. Union, MI 49130. Pastor Paul Freet will officiate. Burial will be in White Pigeon Township Cemetery. Online messages may be left for the family at www.eleyfuneralhomes.com.