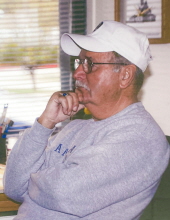 Larry Miller, age 83, of Palestine, IL, died Wednesday, October 7, 2020, in the comfort of his home surrounded by his family. He was born on April 29, 1937, the son of Luther & Ruth (Musgrave) Miller, both of whom preceded him in death.
On May 23, 1987, he married his childhood sweetheart, Barbara Hardesty, and she survives. He is also survived by his daughter, Darci & Joe Skrzyniarz (Three Rivers), Denise & Ben Bolin (Kansas City, MO); by his step-children, Mary Beth Smeltzer (Palestine, IL) and David & Carol Matteson (Palestine, IL); by his grandchildren, Matt & Brianne, Samantha & Adam, Megan, Katie, William, Amanda, Cory & Jamie, Kacee, and Seth; and by his great-grandchildren, Eva, Chloe, Jadyn, Lilly, Cole, Cameran, Payton, Makenzie, Madison, Nolan, and Logan.
Larry grew up in Palestine and was a 1955 graduate of Palestine High School. He would further his education at the University of Illinois, Eastern Illinois University, Western Michigan University, and Michigan State University. He put his newfound knowledge to good use as an educator, teaching for the Three Rivers School System, where he eventually became an administrator. After 30 years in public education, he retired in 1989 and moved back to his hometown of Palestine, where he would open Coon Hollow Studios. In his art studio, he brought to life images of the "Vanishing American Scene" with astonishing detail and precision and shared his gift at the Covered Bridge Festival for over 20 years.
He was a member of several art organizations over the years, including Crawford County, Wabash Valley, Terre Haute, McClean, among others. He was active in a number of local organizations as well, including the Outer West Market Church of Christ; the Palestine Masonic Lodge, Lions Club, and Eagles Lodge (where he was a charter member); as well as the Robinson Elks Lodge and Moose Lodge. He also invested himself into his community by serving as a Palestine Village board member and was also a member of the Palestine Chamber of Commerce board. His love of community was also apparent in his active support of the Palestine School System and in the sheer amount of times he graced the Palestine Public Library with his presence. Believe it or not, these are just the tip of the collective iceberg, as Larry did so much more for his beloved Palestine than most are aware.
It could be said that Larry Miller didn't just draw the "Vanishing American Scene", but was, himself, part of it. The way he lived his life pointed to values of days gone by, when community took precedence over self; when life wasn't about getting and having, but about giving and being. Larry was as gifted as he was intelligent, but unlike so many, he didn't keep it to himself. We are the beneficiaries of this man's humility and are forever thankful for the generosity of spirit with which he lived.
The funeral service was held at Goodwine Funeral Home in Palestine, with Pastors Tim Watson and Tom Akers officiating. Burial was in the Oak Grove Cemetery. Memorial contributions may be made to either "Palestine CUSD #3" or to the "Oak Grove Cemetery Association", with envelopes available at the funeral home.