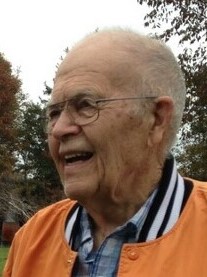 James Paul Johnson, (known as Paul and Jim), age 99, formerly of Three Rivers, died Monday, September 28, 2020, at Birches Adult Foster Care in Leonidas. He was born in Chicago on New Year's Eve, 1920, the son of Carlton and Effie (Moffitt) Johnson. Paul was married to Leola Hammer in Rockford on August 31, 1941. He graduated from Rockford High School followed by a year's training at Moody Bible Institute in Chicago. He was inducted into the US Army November 1944, serving in Italy and stateside, and discharged July 1946. His unit was aboard ship heading for Japan when news of the atomic bombing of Hiroshima. The ship was rerouted to the states, where his unit helped in civil duties building bridges in flooded areas of the Mississippi River.
Most of his vocational career was in agriculture, farming near Belding, Michigan, and was employed as an inspector for the Michigan Department of Agriculture in southern Michigan. He was active in several churches, helping to organize and to build the church building at Green Corners, Belding, MI. At Three Rivers Bible Church and Berean Baptist Church he served individuals and groups with his quiet, practical gifts of manual skills and kindness. For 20 years after retirement, he spent every Tuesday picking up surplus food for the Kalamazoo Rescue Mission.
Paul was preceded in death by his wife of 76 years. He is survived by daughter Rose Marie (Douglas) Wrung of Sunnyside, WA; son, Joel (Ethel) Johnson of Jonesboro, TN; two foster sons, Robert (Gail) McNinch of Wyoming, MI and Jack McNinch of Freeland, MI; special friends Paul and Jan Grandlinard and their family; 12 grandchildren; 27 great-grandchildren; 6 great-great-grandchildren; sister Ruth Johnson of N August, SC. He was proceeded in death by his brother Vern, two sisters Betty (Richard) Beckett and Esther (Russell) Beckett.
In keeping with his wishes, cremation has been conducted. Military rites and interment of both James and Leola will be at 12-noon on Friday, Oct. 23, 2020 at Ft. Custer National Cemetery in Augusta, Michigan. Memorial services will be held 11:00 am Saturday, October 24, 2020 at Moorepark Community Church, Three Rivers with Rev. Steve Nichols officiating.
Memorial donations may be directed to the Baptist Children Home, 354 West St., Ste 1; Valparaiso, IN 46383 or at 219-462-4111 for debit or credit card contributions; Shepherds Foundation;1805 Fifteenth Ave; Union Grove, WI 53182-1591
Assistance was provided by the Eickhoff Farrand Halverson Chapel of Three Rivers. Memories and condolences may be shared with the family at www.efhchapel.com