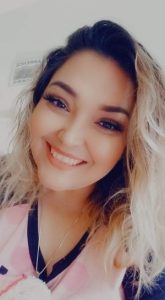 Adelita Cruz Trevino, age 39, of Hartford, passed away on Sunday, November 29, 2020 at Ascension Borgess Hospital in Kalamazoo. Adelita was born in Clearmont, FL on November 12, 1981, a daughter of Gilberto and Ramona (Cruz) Trevino.  She received her Medical Assistant's degree from Lake Michigan College.  Adelita was a social worker for Telemon Corporation, and also previously worked for Intercare as a Medical Assistant.  She enjoyed singing, doing her makeup, traveling, and spending time with her family.  She was a member of Faith Finders Fellowship in Constantine.
Adelita is survived by her parents Gilberto and Ramona Trevino of Florida; children Crystal Trevino of Kalamazoo, Ruby Trevino of Kalamazoo, Esmeralda "Lala" Garcia of Kalamazoo, Oscar Trevino of Hartford, and Lilli Trevino of Hartford; grandchildren Isabella Guerra, Isai Guerra, and Max Quintero; siblings Enrique Trevino of Florida, Jesusa Vela of Centreville, Nick Trevino of Hartford, and Daniel Trevino of Constantine; and numerous nieces and nephews.
She was preceded in death by her grandfather Ismael Cruz and sister Cruz Trevino.
Relatives and friends will be received on Saturday, December 5 from 12 to 2 PM at Faith Finders Fellowship.  Current social distancing guidelines will be enforced and masks are required.  Memorial contributions can be given to Eley Funeral Home to help the family with expenses.
Arrangements were entrusted to Eley Funeral Homes, Constantine.  Please visit www.eleyfuneralhomes.com to sign Adelita's online guestbook and to leave messages for the family.