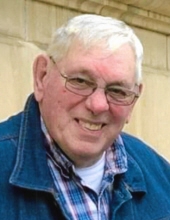 Arden Keith Stroup, age 80, of Elkhart, passed away Saturday, November 14, 2020 at Elkhart General Hospital due to complication of COVID-19.
He was born December 17, 1939 in Sturgis, son of the late Lawrence and Mary (Haskins) Stroup.
Arden resided in Elkhart for the past 23 years coming from Howe, Indiana.
He was first married to Mary E. Birky who preceded him in death May 15, 1993. He later married Mary Ann Emmons who survives.
Arden's working life was with the railroad working at the Elkhart Yard until his retirement.
He enjoyed winter especially while snowmobiling, watching sports and NASCAR races, antique automobiles, collecting model trains and seemed to always be tinkering with a project or two. He loved the annual trips to the Indianapolis 500 and found real joy when he was able to help others.
Arden is survived by his wife: Mary Ann; one daughter: Karen (John) Stroup of Amherst, Ohio; two sons: Michael (Debbie) Stroup and Mark Stroup both of Howe, Indiana; grandchildren: Lawrence Stroup, Aaron Stroup, Nathan Stroup, Kevin Radcliff and Shelby Radcliff; five great grandchildren: Isabella, Anabella, Levi, Noah and Benjamin Stroup; one step-daughter: Susan (Steve) Windsor of Mishawaka; two step-sons: Glenn Emmons of Elkhart, and George Sweezy of Orange, Texas; three step-grandchildren: Bekka Oxley, Leeah Killingbeck and Tammy Davis; three step-great grandchildren: Max and Maya Davis and Elyssa Smith; one sister: Arlis Martin of Nevada and several nieces and nephews.
He was preceded in death by his parents; one sister: Carol Hart and step-grandson: Nicholas Fager.
Due to the current conditions of the COVID-19 pandemic and the limitations of gatherings private graveside services and burial will take place at Oak Lawn Cemetery in Sturgis. Pastor Josh Watts of the Scott United Methodist Church will officiate.
The Hackman Family Funeral Homes of Sturgis is entrusted with the arrangements.
The obituary is also at www.hackmanfamilyfuneralhomes.com where we encourage relatives and friends to share memories and leave condolences for the family.