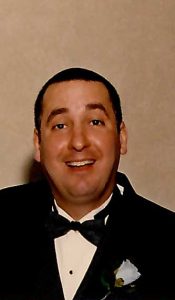 Anthony Thomas Grasso, age 59, of Constantine, passed away on Sunday, December 20, 2020 at his home.  He was born in Elmhurst, IL on December 19, 1961, a son of Olindo and Pearl (Georgiou) Grasso.  He graduated from Willowbrook Community High School in Villa Park, IL in 1980, where he was member of the cross country team. After high school, he obtained the rank of Sgt (E-5) chemical specialist in the Illinois Army National Guard and Reserves for 10 years.
Anthony attended college at Illinois State University, DeVry University, Illinois Institute Technology, and Fair Haven Baptist College, studying Pastoral Theology.  On July 25, 1997, he married Kimberly Bopp at the Fairhaven Baptist Church in Chesterton, IN.
Anthony was called to teach and preach the Gospel.  He served in many ministries throughout his life, including jail and nursing home ministries.  He served as a volunteer for the Normal, IL Police Department and McClain County Fire Department.  During his military service, he received an Army service award for sharp shooting, an Army achievement medal, and was also a part of the Air Force Auxiliary.
He is survived by his loving wife, Kimberly Grasso of Constantine, daughter Hannah Grasso, several cousins, and aunt Elvera Biancalana.  He was preceded in death by his parents and brothers Mark Grasso and Jeffery Grasso.
Relatives and friends will be received Saturday, December 26 from 10- to 11 AM at Mottville Bible Church (10455 US-12, White Pigeon.  A religious service will follow at 11 AM.  Interment will follow at Constantine Township Cemetery.
Arrangements were entrusted to Eley Funeral Home, Constantine.  Please visit www.eleyfuneralhomes.com to sign Anthony's online guestbook and to leave messages for the family.