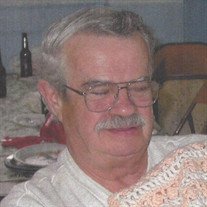 Robert "Bob" Eggleston, Sr., age 84, of Marcellus, passed away, Wednesday, December 23, 2020 at home surrounded by his loving family.
Bob was born in Marcellus on July 29, 1936 to Frank and Nellie (White) Eggleston.
On August 27, 1960 in Dowagiac, he married Rose Mary Krager, who survives him in death.
Bob worked as a carpenter with his father and brothers for many years before becoming a maintenance mechanic working for various companies and retired from American Axle Manufacturing in Three Rivers at the age of 65.
Bob proudly served in the United States Army for 3 years and was stationed in Germany during his service. Bob enjoyed spending his time gardening, farming, building, as well as telling his family and friends stories of his military days.
Bob is survived by his wife Rose; children Robert Eggleston Jr. of Jones, Julie Rosen of Sturgis, Frank (Brenda) Eggleston of Marcellus, Archie Eggleston of Marcellus, Rodney Eggleston of Marcellus, son-in-law Zack Pendell of Marcellus; sister Linda (Howard) Saidla of Marcellus, brother David Eggleston of Three Rivers, sister-in-law Elaine Eggleston; 9 grandchildren Jennifer (Ren) Hartung, Linda Rosen, Brian (Ashley) Rosen, Brandon, Travis Pendell, Erika, Nathan, Heidi, Rachel Eggleston; as well as 9 great grandchildren.
Bob was preceded in death by his parents; sister Betty (Wayne) Maggert; two brothers Olin and Guy (Phyllis) Eggleston; one sister-in-law Jan Eggleston; daughter Cassie Pendell; and granddaughter Hannah Eggleston.
Cremation has taken place. A Celebration of Life will take place at a later date. Memorial donations may be directed to the Hospice Care of Southwest Michigan, 222 N Kalamazoo Mall #100, Kalamazoo, MI 49007. Online condolences may be left at www.materralstonfuneralhome.com.