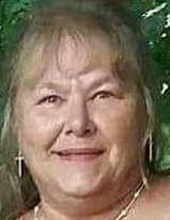 Christine L. Simpson, age 68, of Wolcottville, Indiana passed away Sunday evening, December 13, 2020 at Parkview Randallia Hospital in Fort Wayne.
She was born June 14, 1952 in Lansing, daughter of the late Martin and Barbara (White) Matthews.
Christine resided in Wolcottville for the past five months coming from LaGrange. She had also lived in Sturgis, and her early life was spent in Lansing.
On August 13, 1991 she married Raymond L. Simpson in Sturgis. He preceded her in death September 4, 2013.
Christine was a master seamstress and had been employed by the Freeman Manufacturing Company in Sturgis for many years. Currently she was driving for the Amish community.
She enjoyed gaming on her phone and was looking forward to time spent on the water with her family aboard her son's new speed boat. Christine had a passion for sewing and loved her dogs.
She is survived by one daughter: Holly White of Wolcottville; one son: W. James (Brandi) Tanner of LaGrange; step-daughter-in-law: Susan Beers of White Pigeon; nine grandchildren: Justin, Monte, Tyler, Gage, Branden, Alyssa, Adam, Dixie and Jennie; nine great grandchildren; three sisters: Deb, Wendy and Laurie; two brothers: Bud and Mike and many nieces and nephews.
She was preceded in death by her parents; husband; grandson: Chase; son-in-law: Keith White and step-son: Raymond Simpson.
The family will receive friends from 4:00 to 7:00 P.M. Friday at the Hackman Chapel of Hackman Family Funeral Homes, 114 S. Nottawa St., Sturgis, MI 49091, 269-651-2331. Due to the COVID-19 pandemic and restrictions of gatherings, the current limitations of no more than 20 people in the funeral home at a time will be followed and face masks are required. In accordance with her wishes cremation will follow the visitation.
Memorial donations would be appreciated to the family c/o: W. James Tanner, 7235 E 200 S. LaGrange, IN 46761.
The obituary is also at www.hackmanfamilyfuneralhomes.com where we encourage relatives and friends to share memories and send condolences to the family.